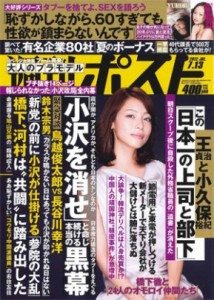 Soaplands, that is to say, erotic bathhouses, in Japan's brothel quarters are facing falling prices amid the ongoing economic slump.
High-end establishments that charge between 50,000 and 80,000 yen and mid-level places, which fetch a bit less, have been hit hard by low-ball joints that began offering entry for a mere 20,000 yen a few years ago. However, Shukan Post (July 13) would like to introduce the "10,000 yen soapland" to its readership.
"With high-end soaplands not seeing any action, gals are going to work at bargain joints," says an editor at an adult entertainment magazine. "In the suburbs, this phenomenon is really taking hold."
Shukan Post heads out on a fact-finding mission to the Yoshiwara brothel quarter of Tokyo.
The bathhouse Puchi Royal used to require an initial outlay of 24,000 yen for 90 minutes. However, the club changed the structure of its pricing last September such that a mere 10,000 yen would garner 35 minutes of foamy fun as delivered by the delicate digits of one of the club's working gals, such as 21-year-old Sakura, who possesses a whopping 91-centimeter bust.
Fear not, the club is not skimping on upkeep and the integrity of its facilities. Clean private rooms are provided and the lobby possesses a cheerful atmosphere. At noon on a recent weekday, several customers were seen waiting.
The magazine decides to take the plunge, courtesy of a 24-year-old gal — described as a "glamorous beauty" — on staff that day. The service starts with a gentle scrub-down on a sukebe isu (literally "lecher chairs," specially configured stools), continues in a bathtub, and finishes atop a bed.
Short and sweet yet when value for money is taken into consideration the service can't be beat, Shukan Post assures.
"We have guys who come during the day and return in the evening," boasts the soap gal.
Talk about bang for your buck.
"Up until a few years ago, there were a lot of girls who could pull in 100,000 yen a day," says the manager. "But now we get office ladies or housewives who are looking to supplement their incomes by 100,000 yen a month."
Puchi Royal's manager assures Shukan Post that the level of quality is not reflected in the low price. "The soundness of the service remains top of the line," he says.
Yet he does admit that his club cannot make any money with rock-bottom pricing. "We are hoping to attract a lot of customers," he says, "many of whom will stay and pay for extended sessions." (K.N.)
Source: "Yoshiwara nimo shuttsugen '1manen soopurando,'" Shukan Post (July 13, pages 144-145)
Note: Brief extracts from Japanese vernacular media in the public domain that appear here were translated and summarized under the principle of "fair use." Every effort has been made to ensure accuracy of the translations. However, we are not responsible for the veracity of their contents. The activities of individuals described herein should not be construed as "typical" behavior of Japanese people nor reflect the intention to portray the country in a negative manner. Our sole aim is to provide examples of various types of reading matter enjoyed by Japanese.