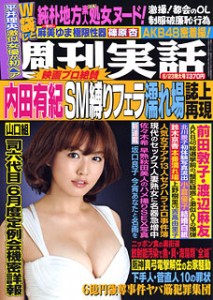 In the late evening of May 31, police officers entered a bar in Tokyo's Minami Koiwa district and discovered a hostess to be engaged in a bit more than pleasant conversation with a male customer.
Upon their entry, the completely naked 39-year-old female quickly pushed her client off of her and grabbed a towel. She then moved over to a sofa, where she sat in despair as officers ordered her to put on clothing.
According to weekly tabloid Shukan Jitsuwa (June 23), the bar San-nen A-gumi (3年A組), possibly named after the famous TV drama series "San-nen B-gumi Kinpachi-sensei" (3年B組金八先生), had been under surveillance for an extended period.
Members of the Metropolitan Police Department's safety division and the Koiwa Police Department arrested the establishment's owner, Hakudo Sato, 31, and four employees for violating the Anti-Prostitution Law. Perhaps most interesting was that one woman who was taken into custody came to Tokyo from Miyagi Prefecture following the devastation of the Great East Japan Earthquake.
"While it was called a bar, it was definitely a fuzoku shop," says a writer who covers that particular trade, which is commercial sex. "Touts stand outside the joint saying you can get service for only 4,000 yen. It is also known for offering full service by mature gals. Most regulars are in their late 50s to early 60s."
A neighbor tells the tabloid that these mature ladies tend to be amateurs.
"Out of 16 girls, 10 are in their 40s and six in their 30s," says a person affiliated with the investigation. "There are three individual rooms in the back of the bar for 'services.' Based on the books, the bar did about 80 million yen in sales over the past fiscal year. They were charging between 27,000 and 30,000 yen for full service with 60 percent of that going to the shop and the rest to the girl."
According to the person from the investigation team, the woman from Tohoku had been working at the bar since April 20, and she was providing full service almost everyday.
"She resides in Aoba-ku of Sendai," says a reporter on the nationwide beat. "She had worked at a factory. But all employees were terminated as a result of the earthquake. A local branch of the employment service center Hello Work couldn't find her a job, and the repairs to her house took her savings. Then she saw an ad on a mobile phone site about the bar."
Police have quoted her as saying: "I knew that there was some risk. I was hoping to return to Sendai once I made a half million yen, but my rent kept it hard to realize that goal in such a short time." (K.N.)
Source: "Hisaichi josei baishun de tekihatsu akireta jukujo honbanten," Shukan Jitsuwa (June 24, page 205)
Note: Brief extracts from Japanese vernacular media in the public domain that appear here were translated and summarized under the principle of "fair use." Every effort has been made to ensure accuracy of the translations. However, we are not responsible for the veracity of their contents. The activities of individuals described herein should not be construed as "typical" behavior of Japanese people nor reflect the intention to portray the country in a negative manner. Our sole aim is to provide examples of various types of reading matter enjoyed by Japanese.