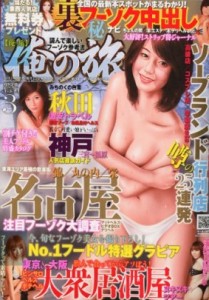 Despite the mood of jishuku (self-restraint) due to the understandably gloomy mood in the wake of nature's wanton destruction, sex shops, at least in the greater Tokyo area, seem to be making a comeback.
"Men have been rushing to shops out of concerns that the girls they took a liking to are all right," Akira Ikoma, editor of a guide to men's entertainment called Ore no Tabi (My Journey) tells Tokyo Sports (Apr. 6). "Or perhaps some men might just feel anxious being home alone and crave a touch of human kindness. I myself went out to a place as well. And enjoying just one brief moment in the midst of all this sadness turned out to be an unforgettable experience."
According to writers who cover the "pink" scene, sex shops did not lack for business in the immediate aftermath of the Great East Japan Earthquake on March 11. Perhaps more than mere lust, men's instinct kicked in, as they felt, "If the end is coming soon, I might as well go out with a bang."
"Right before the quake, our business was caught up in a vicious circle, with fewer and fewer customers even though we'd kept reducing our prices," says an operator of a deri heru (outcall sex service) in the metropolitan area. "I was actually considering closing down the shop for good. But right after the quake, we were swamped with customers."
The operator of a soapland (erotic bathhouse) in Chiba reported a similar run on his sudsy attendants. "Right now business is like the December bonus season," he beamed. "Men don't seem to have anything else to do or anywhere else to go, so they come to us."
"We've also received requests from readers to put together a special issue introducing shops that feature girls from the Tohoku area," says the aforementioned Ikoma. "I suppose these guys think perhaps by patronizing such places, some of the money will wind up going to help the stricken areas."
The current boom is unlikely to last however.
"The outcome of the April 10 Tokyo gubernatorial election may affect business," Ikoma speculates "If [former Miyazaki governor] Hideo Higashikokubaru wins, he is likely to take a tolerant attitude toward pink businesses; but if incumbent governor Shintaro Ishihara is reelected, he can be expected to take a stricter stance."
Source: "Kasai de fuzoku fukko," Tokyo Sports (Apr. 6, page 10)
Note: Brief extracts from Japanese vernacular media in the public domain that appear here were translated and summarized under the principle of "fair use." Every effort has been made to ensure accuracy of the translations. However, we are not responsible for the veracity of their contents. The activities of individuals described herein should not be construed as "typical" behavior of Japanese people nor reflect the intention to portray the country in a negative manner. Our sole aim is to provide examples of various types of reading matter enjoyed by Japanese.