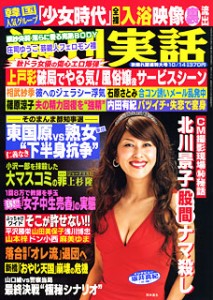 Three men were arrested last month in Ishikawa Prefecture for employing the sexual services of an extremely resourceful middle school girl on her summer break, reports Shukan Jitsuwa (Oct. 14).
Ishikawa prefectural police from the Kanazawa City station fingered 58-year-old school teacher Hideo Higashi and company employees Koji Ishizaka, 39, and Hiromi Nakamura, 38, on September 21 for violating prostitution and pornography statutes regarding child welfare following various encounters with a 13-year-old girl at hotels in the prefecture during July and August.
Higashi, a teacher at Higashi Asakawa Elementary School, met the student at Kanazawa City hotels on July 30 and August 11, upon which he was charged 40,000 yen per visit. Ishizaka and Nakamura utilized her services at Kanazawa City and Shirayama City hotels on the same day, July 25.
"These three suspects were put in touch with the girl via a professional driver, Eihan Yamada, a 31-year-old who has already been indicted for promoting prostitution involving a minor," says an individual related to the investigation. "Yamada posted classified ads on mobile phone sites for recruitment purposes and brokered deals with interested girls, offering them between 20,000 and 40,000 yen as pay."
The weekly adds that investigations regarding other girls are underway.
A PTA member at Higashi's school said he was very "passionate," but he confessed post arrest: "I was stressed out and I let temptation win me over." Representatives of the school were said to be stunned by the incident.
What shocked the investigation team most was how much the girl was earning through her physical exploits during summer vacation.
"This girl started to commute to a school in Kanazawa City from the spring," says a local beat writer. "Her physique is a bit large. So for those who are into Lolita types with a baby face, she was perfect. Perhaps this imbalance made her more attractive.
"Higashi gave her a 40,000-yen tip on top of the service fee," the source continues. "That means this girl scored 80,000 yen a pop. But you know, as well, she is one of those girls who doesn't stand out and never would miss a day at school." (K.N.)
Source: "Rorikon kyoshi wo tedamani totta onako chugakusei no baishun," Shukan Jitsuwa (Oct. 14, pages 206-207)
Note: Brief extracts from Japanese vernacular media in the public domain that appear here were translated and summarized under the principle of "fair use." Every effort has been made to ensure accuracy of the translations. However, we are not responsible for the veracity of their contents. The activities of individuals described herein should not be construed as "typical" behavior of Japanese people nor reflect the intention to portray the country in a negative manner. Our sole aim is to provide examples of various types of reading matter enjoyed by Japanese.