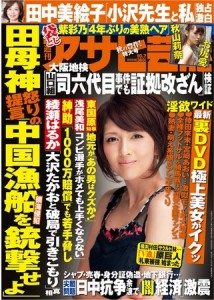 From January of next year, a revision to the section of the nationwide Law Regulating Adult Entertainment Businesses that pertains to love hotels will come into force, and, as Shukan Asahi Geino (Oct. 7) reports, the industry will be in for a shake up.
The weekly tabloid explains that the revisions are intended to remove prostitution and underage porn shoots from hotel premises.
"There are two types of love hotels," explains journalist Akihira Otani. "Those operating under the approval of the Law Regulating Adult Entertainment Businesses and those operating as lodging entities under the conventional lodging law, just as with any hotel or ryokan you may see.
"Giso (camouflaged) love hotels operate under the conventional lodging law yet provide adult-oriented gear, such as dildos," he continues. "In both cases, one can go straight to a room without being seen. This is believed to be a contributing factor to crimes for which this revision is designed to counter."
There are 3,590 of these pseudo-love hotels. Roughly the same amount operate under the adult-entertainment law.
"The revised law will extend the list of requirements for love hotels to become eligible," says a reporter who covers social issues.
The changes can be found here in Japanese. Most notably, guests will be asked to register personal information at the front desk. Other measures mainly deal with the establishment's facilities and layout.
"Infrastructure must be in place to ensure that room fees are clearly shown and automatic room-fee payment machines are situated in every guest room," continues the source. "Further, the entire building must be designed so that guests will not be visible by staff members in common areas.
(Ostensibly, these latter requirements are to specifically impact pseudo-love hotels, which contain nearly standard hotel rooms and open hallways and common areas.)
"While some of the pseudo-love hotels may apply for the license under the Law Regulating Adult Entertainment Businesses," the reporter adds, "the current design of the buildings will result in rejection. Many will be forced to redesign their hotels."
Asahi Geino believes that some may be forced to close altogether as they will not be able to afford such renovations.
While this revision is targeting certain crimes, it is actually nonsense, according to Ikkyon Kim, a part-time professor and author of the book "The Evolution of the Love Hotel," published by Bunshun Shinsho.
"It is old fashioned to separate love hotels from regular hotels," she says. "City hotels nowadays offer short-stay programs. It will be just a continuous game of cat-and-mouse between the hotels and law enforcement."
Will this revision end the problem? Journalist Otani is skeptical. "Is a front desk clerk likely to determine whether a female is a high school girl or not?" he asks. "Unless the roots of the problems are resolved, it may simply shift the crime scenes to city hotels."
A male guest laments the move. "Checking in and facing the staff members defeats the whole point of the love hotel," he says. "It's intended to be a discrete environment." (A.T.)
Source: "Rabuho shinho ga furin couple o chokugeki hitome ni tsukazuni checkin dekinaku naru!" Shukan Asahi Geino (Oct. 7, pages 42-44)
Note: Brief extracts from Japanese vernacular media in the public domain that appear here were translated and summarized under the principle of "fair use." Every effort has been made to ensure accuracy of the translations. However, we are not responsible for the veracity of their contents. The activities of individuals described herein should not be construed as "typical" behavior of Japanese people nor reflect the intention to portray the country in a negative manner. Our sole aim is to provide examples of various types of reading matter enjoyed by Japanese.