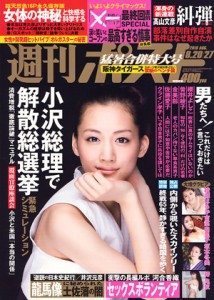 The Japan pavilion has been a popular attraction at the Shanghai World Expo 2010, now at its midway point, but frustrations are mounting among female staffers who have been banned from mingling with men from other countries, reports Shukan Post (Aug. 20-27).
Officially known as "attendants," these companions have been told by their superiors that partaking in group gatherings, termed gokon, with males from other Expo nations is out of the question.
"A male director who supervises us said during our morning briefing that international meetings in the evening, such as wining, dining and partying with VIPs and staff members of other pavilions, are prohibited," one Japan pavilion gal tells the tabloid. "One girl argued the point, asking for an explanation, but it was simply explained that working with professionalism at all times is the priority."
The Japan pavilion has 148 companions, who were selected from a pool of 1,500 applicants. Aged in their 20s and 30s, they work as receptionists, tour guides or attendants to VIPs and are lodged in 55 apartments.
"We cannot stay overnight elsewhere without permission," complains another companion. "Some girls stayed at a Swiss staffer's place one time. For some days after, we were able to play around, making sure not to make too much noise, but one night a sign was posted in the elevator about a party held in a room. This led to the organizers hearing about it, and this was what lead to the ban."
Shukan Post notes the determination on the part of some gals on the hunt, working relentlessly to establish international communication…and hook a rich foriegn guy.
"One girl seems to be going out with a wealthy boy from Dubai who works at Saudi Arabia pavilion," says the first companion. "They dine at expensive Chinese restaurants. Some other girls also find their boyfriends here. They tend to be Russians and Australians."
The Japan pavilion's public relations department had little to say, only offering, "We train them to be professional at every morning briefing."
While this might be overkill, Shukan Post concludes of the ban, we hope eye candy is not the only thing the Japan pavilion is offering. (A.T.)
Source: "Shanghai banpaku nihonjin konpanion ni 'gokon kinshirei' ga hatsuryo sareteita!" Shukan Post (Aug. 20-27, page 169)
Note: Brief extracts from Japanese vernacular media in the public domain that appear here were translated and summarized under the principle of "fair use." Every effort has been made to ensure accuracy of the translations. However, we are not responsible for the veracity of their contents. The activities of individuals described herein should not be construed as "typical" behavior of Japanese people nor reflect the intention to portray the country in a negative manner. Our sole aim is to provide examples of various types of reading matter enjoyed by Japanese.