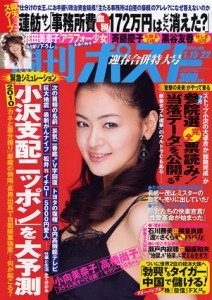 In this era of deflation, reduced fees at fuzoku establishments, such as 4,800 yen for entering an ime kura (image club) or a soapland's 10,000 yen "early bird" special, are tough to top. Yet Shukan Post (Jan. 14) believes there exists even better cost performance: a mistress for a mere 5,000 yen.
During the bubble era, the tabloid says, it was not unusual for allowances given to mistresses to be roughly 200,000 yen per encounter or 1 million yen a month.
A-san, a 42-year-old sales rep working at a major manufacturing company, has discovered a much more reasonable option. For a year, he has been seeing an executive secretary, 24, who he met at a club designed for singles.
The initial outlay for registration is 50,000 yen but after that expenses are minimal. "The only money I pay to her is 5,000 yen per meeting for car money," he says. "The club has a policy that makes the male member pay his female date this transportation fee as a minimum. But this girl is telling me that 'that's the only allowance I seek.'"
Indeed, a 5,000-yen mistress.
Shukan Post surmises that even if such a pair were to meet four times a month, the total would come to only 20,000 yen — the perfect price range for a salaryman in these tumultuous economic times.
A-san continues: "I am not the only one receiving the benefits of a 5,000-yen mistress. A girl who used to charge 20,000 yen reduced her rate to 10,000 yen as the number of her encounters with a particular guy increased, and eventually it got down to just him paying for dinner. I feel that many girls are looking for some salvation in sex."
These types of ladies, described as nikushoku-kei, or colloquially translated to mean aggressive, are flowing into singles clubs of this sort. Piroko Sakuragi, a columnist with knowledge of female psychology, agrees. "Mistress clubs used to attract women who would do it for money," she says. "Nowadays, it is a place for women seeking sex with men who provide a sense of safety. Plus, an allowance of some sort is not a bad idea. She is more than a mistress, yet less than a friend with benefits. That is the type of relationship that these women find comfortable." (K.N.)
Source: "Nikushoku-kei jyoshi no taito de 'O-teate-souba' daibouraku! 5,000yen Aiji Taiken kokuhaku" Shukan Post (Jan. 15, page 43)
Note: Brief extracts from Japanese vernacular media in the public domain that appear here were translated and summarized under the principle of "fair use." Every effort has been made to ensure accuracy of the translations. However, we are not responsible for the veracity of their contents. The activities of individuals described herein should not be construed as "typical" behavior of Japanese people nor reflect the intention to portray the country in a negative manner. Our sole aim is to provide examples of various types of reading matter enjoyed by Japanese.