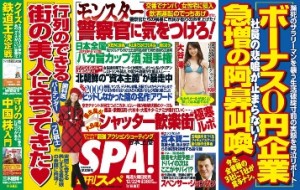 On a recent visit to Tokyo's infamous Kabukicho entertainment district, Spa! (Dec. 22) discovered that the typically luminescent Ichiban-gai arch, which hangs above one entrance near Shinjuku Station, was unlit.
The tabloid wonders: Is this how far Kabukicho has sunk? Once Tokyo's adult playground, the area has hit upon hard times — a trend buffeted by the ongoing recession and law enforcement activities that is sweeping through Japan's legendary entertainment quarters.
In December of last year, the Koma Theater, located roughly at Kabubicho's center and formerly a gathering point for fans of enka and theater plays, shut its doors due to a decline in visitors and the dilapidated condition of its building.
The street passing beneath Ichiban-gai once had numerous restaurants at ground level with shady fuzoku and kyabakura shops upstairs, making for a unique balance. But police raids shut many of these sex-oriented clubs and the spaces are still vacant, their windows covered with signs saying "available for tenants."
Along Hanamichi-dori, just past the Koma Theater, many hostess and host clubs have closed. The Tatehana Building, a landmark in the neighborhood, has many vacancies, as evidenced by the many blank signboards. "Just because there are no signs doesn't mean there are no clubs there," says one street tout. "But it's true that many clubs closed this year."
The weekly proceeds onward, to where a shop once provided information and directions to adult establishments. Today there is a notice pasted in front of the closed premises that says, "Don't give up Kabukicho!"
A real state agent familiar with the area tells Spa!: "Even with the kyabakura going out of business, a different owner will typically come in and start business if it is located at the heart of the town. However, peripheral areas have seen vacancies exist for extended periods."
One host, outside shooting Christmas photos for his club, says that with the kyabakura gone many sekukyaba and "girl's bars" — clubs similar in practice to kyabakura but which utilize legal loopholes to stay in operation — have taken their place. "Our clientele has changed in that per-customer spending is in decline," he says of his operation. "If you can't ride the wave, you will lose business. But Kabukicho is still better than Roppongi."
At Roppongi Crossing, the weekly finds that the intersection's shimmering neon lights do not reflect reality: the shuttering of 500 shops following the financial collapse that unfolded following the "Lehman Shock" over one year ago. The result is an increased appeal for fast-food outlets, such as a new takoyaki (battered octopus) bar a few doors from the crossing.
A restaurant owner explains that the number of vacancies in the area is very high. "The rebuilding plan at the Velfarre property started before the meltdown," he says of the structure now at the site of the once popular disco. "The rent is based on how much they bought it for at that time. With the financial meltdown and the continued recession, no one can afford 60,000 yen per tsubo (3.31 square meters). However, the owners can't simply lower the rent. So some have opened bars as a hobby or rented out their spaces to be used for such things as smoking areas." (A photo spread includes shots of numerous empty buildings, include spa Zaboo.)
Further, one plot of land sits vacant with no construction plan in place. A person affiliated with a dress shop in proximity to that vacant lot and two run-down buildings says: "One of the buildings is a clothing shop that went bust. The other one had restaurants but it has been vacant for the last two years. The open space is not getting any new construction, but I don't know the reason."
Regarding that plot of land, a person familiar with the situation provides what is perhaps the understatement of the year (follow this link for more information): "The land has multiple landowners and that is making the situation difficult for rebuilding."
The article then shifts its focus to the high-end Ginza district, where a cab driver offers this bleak assessment: "One thousand clubs and restaurants have gone out of business. Our sales have also declined, down to 10,000 yen a day."
The tabloid starts at Namiki-dori, where multiple high-end clubs stand. On this day, many expensive cars can be seen parked as numerous hostesses walk the pavement amid the Christmas decorations hanging in place. A real estate agent explains that the pleasant appearance is deceiving. "There are quite a few clubs that are not operating even though they have their signs out," he says. "New buildings have all their neon lights lit throughout so you will not see that some parts are not lit and others are lit."
But such a ruse is a futile attempt, says the weekly, considering that brand shops like Gucci and Cartier are completely dark after 9 p.m. with others completely shut. "J&R and Bally (both women's clothing stores) closed down this year," says an employee in the area. "Some are considering relocation next year. The current burden is likely going to spread throughout the industry."
The tabloid says that what is most surprising is the entry of cheap izakayas into the area — a sure sign that Japan's number one luxury district is starting to rattle.
In Kansai, the article finds Osaka's Kita area, at one time a hotbed of fuzoku joints, to be riddled with shuttered doors or demolition crews. "First it was the restaurants that went out," says a construction company employee. "Then the fuzoku places came over to replace them. But the new governor cracked down on those that didn't have appropriate licenses and they disappeared quickly."
The Shinchi district, known for its high-end restaurants, has also transformed. Many chain izakaya places have moved in — one of which even occupies the former space of a famous lobster restaurant. "Pharmaceutical companies are good customers around here," says an employee at a flower shop. "But employees are seeing their entertainment budgets cut in half. Many places are going to soon be facing some tough decisions."
Spa! then ventures to the Sakae area of Nagoya, which is known as Kansai's top entertainment area. With the auto industry struggling — and the fact that Toyota's headquarters and some factories are located in the Nagoya region — it is no exception to this downward trend. The owner of a kyabakura explains: "Based on reports from unions, I have seen that 1,000 clubs and restaurants in Nishiki (located within Sakae) and other Naka Ward areas have closed. But these are just the ones which have returned their licenses. The number is likely larger considering those operating without a proper license."
In the Joshidai area, many buildings are shuttered with "looking for tenants" signs affixed outside. A cab driver says ominously, "This used to be most prosperous area in Nagoya; small bars were everywhere. Now it's all coin parking and bento places. We don't go to Joshidai anymore. There are only Filipinos there with limited language ability. They will also not pay our cab fare, and if we chase them, we will get beaten up." (K.N.)
Source: "Kankodori ga dai-gasshou! 'shattaa kanrakugai' gokkan rupo," Spa! (Dec. 22, pages 22-25)
Note: Brief extracts from Japanese vernacular media in the public domain that appear here were translated and summarized under the principle of "fair use." Every effort has been made to ensure accuracy of the translations. However, we are not responsible for the veracity of their contents. The activities of individuals described herein should not be construed as "typical" behavior of Japanese people nor reflect the intention to portray the country in a negative manner. Our sole aim is to provide examples of various types of reading matter enjoyed by Japanese.