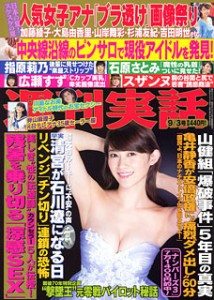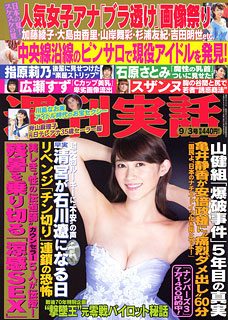 It was about one year ago that law enforcement began a crackdown on a black market area in Osaka's Kamagasaki area of Nishinari Ward.
At the end of month, Osaka Prefectural Police returned to the area, arresting two street vendors for the sale of illegal adult videos. In addition, police cited more than 80 vendors in the area with operating without a license.
According to weekly tabloid Shukan Jitsuwa (Sep. 3), the downtrodden area, frequented by homeless and day laborers, has undergone a shift in protocol.
"Until last year, there were many customers arriving from outside the area to buy secondhand books and illegal DVDs," a volunteer worker in the area tells the tabloid. "But nowadays the shops are mainly selling to the locals."
Locals often refer to the area by its nickname "Airin" (loving district). But for law enforcement there is no love lost in Kamagasaki: Criminal activities have continued in spite of crackdowns in the past, and the latest action is part of an increased presence in the area.
One concern is medicine.
"In addition to clothing and daily necessities, pharmaceuticals are also sold in the open," continues the aforementioned volunteer. "Of course, these are regular drugs but until last year they didn't even use a display case."
The pharmaceuticals do not come with instructions, only a seal attached to the package with a note describing the effect.
Expired food is also available.
"From a supermarket somewhere, (vendors) are collecting items (to sell)," says a homeless person. "A 100-yen (retail) rice ball will go for 30 yen. A 200-yen sandwich will fetch 50 yen."
Everyday a line forms for the merchandise.
"Of course, everybody knows the goods are expired," continues the homeless person, "but for a person on public assistance these are the kind of things to buy."
Prior to the recent bust, the market was massively popular in spite of its clearly illegal nature.
Some wonder if the system itself is broken.
"The goods are obtained at nearly zero cost and sold to the homeless at a discount (over their retail price)," says another volunteer. "This is a respectable business serving the impoverished." (K.N.)
Source: "Osaka Nishinari-ku Airin chiku natsu no yamiichi issei tekihatsu de hanmei shita muho chitai-buri," Shukan Jitsuwa (Sep. 3, page 53)
Note: Brief extracts from Japanese vernacular media in the public domain that appear here were translated and summarized under the principle of "fair use." Every effort has been made to ensure accuracy of the translations. However, we are not responsible for the veracity of their contents. The activities of individuals described herein should not be construed as "typical" behavior of Japanese people nor reflect the intention to portray the country in a negative manner. Our sole aim is to provide examples of various types of reading matter enjoyed by Japanese.