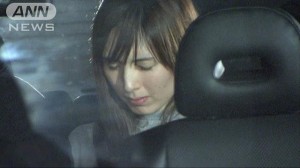 Tokyo Metropolitan Police on Monday arrested Azuha Kikuchi, 28, for allegedly killing her boyfriend, Yuji Hirata, in the apartment they shared in Chuo Ward.
According to investigators, the suspect on Sunday and Monday used a metal bat to repeatedly beat the head of the victim, a 48-year-old manager of a hostess club in the nearby Ginza district. She also stabbed him in the chest with a knife.
According to Nikkan Gendai (Feb. 4), it was a crime of passion amid an exceedingly complicated relationship.
"On her koseki, Kikuchi is listed as a woman but she suffers from a gender identity disorder," the newspaper hears from an investigator, who is referring to her family registry. "She was once a man. As well, she is a hostess working at the same Ginza club the victim managed."
Neighbors tell the newspaper that Kikuchi is a tall beauty who regularly exited the apartment dressed in highly fashionable clothing. By all accounts, she and Hirata seemed to be a dream couple, often seen walking together with their arms linked.
That image, however, was not entirely accurate. According to Fuji News Network (Feb. 4), the impetus of the attack came after Kikuchi had seen a photograph of Hirata with another woman. "Things got complicated after we talked about separating," the suspect said. "So I stabbed and beat him."
After the incident, Kikuchi contacted a male acquaintance. At around 12:20 p.m. on Monday, the body of Hirata, clothed in pajamas covered in blood, was found slumped at the edge of a bed inside a room of their fifth-floor apartment. He was confirmed dead soon after arriving at a nearby hospital.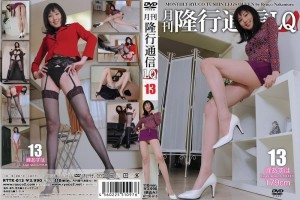 Inside the apartment, police found a bat covered in the blood of the victim. They also discovered a knife inside a handbag owned by Kikuchi. Police believe the bat had recently been purchased by Kikuchi at a shopping mall in Koto Ward for use in the alleged crime.
According to a person employed in the media, Kikuchi was outwardly a woman. Two years ago, she appeared in a monthly erotic DVD series titled "Legs Queen" in which her nearly 180-centimeter frame, according to her Facebook page, can be seen posing in a number of suggestive positions.
"There was no nudity," says the media source, "but she was clearly representing herself as a female. She also listed herself on deai-kei matchmaking sites as a woman."
Nikkan Gendai wonders whether Hirata knew about whether his pretty flower contained a thorn. (K.N.)
Source: "Dosei aite metta-zashi katsute otokodatta bijin hosutesu no ura no kao," Nikkan Gendai (Feb. 4)
Note: Brief extracts from Japanese vernacular media in the public domain that appear here were translated and summarized under the principle of "fair use." Every effort has been made to ensure accuracy of the translations. However, we are not responsible for the veracity of their contents. The activities of individuals described herein should not be construed as "typical" behavior of Japanese people nor reflect the intention to portray the country in a negative manner. Our sole aim is to provide examples of various types of reading matter enjoyed by Japanese.