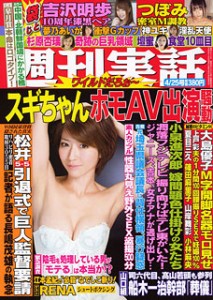 Entertainment company Sega Sammy Holdings, a manufacturer of the machines used in pachinko gaming parlors, announced in February a lowered full-year forecast and a drop in earnings per share from 164.20 to 51.24 yen for the fiscal year ending March 31. The company also said that it was delaying the sale of new machines in its immensely popular "Hokuto no Ken" (Fist of the North Star) series, which incorporates graphics from the manga of the same name.
Yet in spite of this gloomy outlook, the share price of the company has risen by more than 50 percent this year. Shukan Jitsuwa (Apr. 25) views this as a sign that possible legislation to legalize casinos in Japan may be finding traction.
Tokyo Governor Naoki Inose and Osaka Mayor Toru Hashimoto have both hinted at support. "Also, in March, Prime Minister Shinzo Abe said in the House of Representatives that the concept of licensed casinos 'has merit,' which brought the subject of lifting the ban on casinos into the public arena," says a person familiar with the gaming market.
At present, legal forms of gambling in Japan include betting on horse, boat, bicycle, and motorcycle racing. Pachinko and lotteries are considered "amusement" activities.
Sega Sammy oversees the development, production, and sale of machines and the management of game centers. In 2007, the company announced plans to participation in a development project in Yokohama — if a bill be passed in the Diet legalizing casinos — would include a gambling facility in the future. The project, however, was cancelled due to the economic crisis that escalated with the bankruptcy of Lehman Brothers the following year.
Times, however, appear to have changed. In February of 2012, the company purchased the Phoenix Sea Gaia resort in Miyazaki Prefecture, an acquisition that Shukan Jitsuwa views as another sign that the winds may be shifting toward legalization. The company also has a stake in a casino in South Korea.
Two months after the announcement of the purchase, the president of Sega Sammy, Hajime SatomiSega Sammy stated at a press conference in Miyazaki a renewed interest in participation in a casino business should the government lend its support. "Of course, that (a casino) is what we have in mind," the president said. (A.T.)
Source: "Sega Sammy gyoseki fuan ari demo kabuka wo kyojosho saseru kajino kaikin no yocho," Shukan Jitsuwa (Apr. 25, page 47)
Note: Brief extracts from Japanese vernacular media in the public domain that appear here were translated and summarized under the principle of "fair use." Every effort has been made to ensure accuracy of the translations. However, we are not responsible for the veracity of their contents. The activities of individuals described herein should not be construed as "typical" behavior of Japanese people nor reflect the intention to portray the country in a negative manner. Our sole aim is to provide examples of various types of reading matter enjoyed by Japanese.