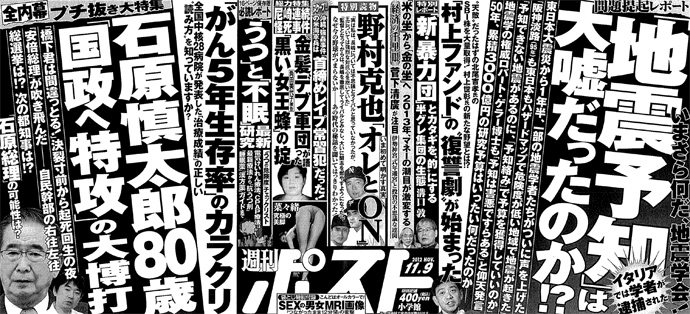 A recent series of attacks and threats upon citizens in the Kokurakita nightlife area of Kitakyushu City, Fukuoka Prefecture has left nerves frazzled.
The incidents have followed the posting of an anti-gang emblem outside restaurants and bars. The campaign, which began on August 1, is intended to thwart the activities of criminal organizations in the area.
Shukan Post (Nov. 9) says that police and government officials believe the crime spree — including multiple slashing assaults and arson attacks — has been carried out by the 600-member Kudo-kai organized crime group, whose headquarters is located in Kokurakita Ward.
On August 30, a 44-year-old female employee from a "snack" club who was walking home after midnight from her club in Hachiman Nishi Ward was slashed in the face. Two days later, a female restaurant worker, 55, suffered the same fate. A 35-year-old hostess was also slashed in the face early on September 7 after she got out of a taxi. The driver of the cab was also struck in the hand and head.
Shukan Post also chronicles a total of five suspicious fires at clubs.
All of the victims were affiliated with establishments that had posted the anti-gang emblem outside their establishments. As a means of intimidation, on September 10, a total of 70 shops received threatening phone calls. "You are cooperating with the police," the caller said to each one. "You will be next."
Fukuoka has been a hotbed of trouble with gangs in the recent past. In April, organized crime was suspected in the shooting of a former detective with the Fukuoka Prefectural Police. Three months earlier, the head of a construction company was shot in front of his office in Nakama City, Fukuoka. Offices of the Kudo-kai organized crime group were searched following the incident.
According to the Asahi Shimbun (Oct. 23), the Kudo-kai takes cuts from local construction projects and demands that bars and restaurants pay between 10,000 yen and 100,000 yen a month — termed mikajimeryo — in protection money.
Given the existence of such a systematic operation within the area, local citizens feared whether police could provide proper protection for any retaliation from gangs over the implementation of the anti-yakuza campaign.
The discovery last month of a rocket launcher in the possession of a Kudo-kai associate only added to concerns by local citizens.
Law enforcement has yet to arrest any suspects for the recent attacks. Kitakyushu mayor Kenji Kitahashi is irritated by the lack of progress. "A roundup of these criminals is the greatest undertaking in our anti-gang policies," he said.
Since April, approximately 900 riot police from the National Police Agency have moved into Kitakyushu. By spring of next year, 200 additional investigators will been mobilized for anti-organized crime duties.
Shukan Post interviews 59-year-old Hiroshi Kimura, a top boss in the Kudo-kai, who plainly denies involvement in the crime spree.
"There has been no participation on our part in the ongoing series of incidents," says Kimura. "If by chance one of our members was proved to have participated he would be subject to atonement at onece."
Source: "Kitakyushu de ipponjin ga totsuzen kao kiritsukerareru nado higai ga zokushuttsu chu," Shukan Post (Nov. 9)
Note: Brief extracts from Japanese vernacular media in the public domain that appear here were translated and summarized under the principle of "fair use." Every effort has been made to ensure accuracy of the translations. However, we are not responsible for the veracity of their contents. The activities of individuals described herein should not be construed as "typical" behavior of Japanese people nor reflect the intention to portray the country in a negative manner. Our sole aim is to provide examples of various types of reading matter enjoyed by Japanese.