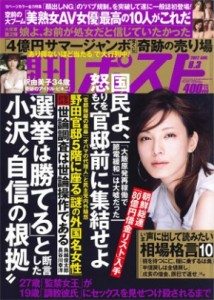 Shukan Post (Aug. 3) continues with its ongoing coverage of Japan's adult video (AV) industry with a feature on the increasing demand for "mature" actresses.
Termed the jukujo actress, performers in this genre are usually older than 30 years young, but appearances by gals in their late 20s are not unusual.
Shukan Post traces the trend's beginnings back to the debut in 1998 of Reiko Makihara, and that of Mariko Kawana the following year.
Two major producers subsequently entered the industry. Madonna, with its "Mature Lady Department Store" series, and Tameikegoro (known for its "Beautiful Woman Specialist Course" line of titles) are dubbed the "Big Two" in the mature lady market.
An editor at a publication specializing in mature actresses says that there are perhaps 20 to 30 companies in total, none of which utilize big-game Internet sites to generate sales. "The companies are operated independently," says the source. "Their output cannot be found unless one makes a trip to a shop."
The editor estimates that there are 150 actresses in the genre, in which sales of 1,000 units per title signify hit status.
A public relations representative from Tameikegoro says that last year marked a revival for women in their 40s after the return of Marina Matsumoto. "A Beautiful Lady's High Stress Sex" hit store shelves last August. The representative says that her return DVD has sold 3,000 copies.
Matsumoto has since gone on to star in numerous other titles, and this August will see the release of "Married Woman and the 3-Hole Gang Rape."
In a month, the average company will release seven titles. When priced at 3,000 yen that means a profit of 1,500 yen for the producer. "First runs for DVDs will be around 1,000 copies," says the magazine editor. "On average, total sales might number 700 copies.
Shukan Post estimates that mature discs generate annual sales of 5 billion yen, roughly 10 percent of the entire AV industry.
Such a market share could be buffeted, the tabloid believes, if there is a continued interest in gals over 60 years of age — dubbed "super-mature" actresses. "For the last three years, we've seen a boost in employment applications by women over the age of 60," says the president of an AV production company specializing in older women. "Both married and unmarried women are submitting applications.
Production companies solicit applications via the Internet or newspapers. At present, the industry has roughly 200 such actresses. Two major players are Center Village and Ruby, which tells the tabloid that its active roster will always include four or five super-mature actresses, who usually retire upon the completion of five or six films.
A public relations representative at Ruby assures the magazine that fans of the genre are not interested in the looks of the actress.
"Her appearance does not matter," says the representative. "Age is truly precious."
That may indeed be true, but Shukan Post assures that the male leads capable of successfully performing with such women are even more precious. (K.N.)
Source: "Kuzen no oo buumu wo kenin suru 10jin ga ippan shi hatsu tojo bijukujo no jidai," Shukan Post (August 3)
Note: Brief extracts from Japanese vernacular media in the public domain that appear here were translated and summarized under the principle of "fair use." Every effort has been made to ensure accuracy of the translations. However, we are not responsible for the veracity of their contents. The activities of individuals described herein should not be construed as "typical" behavior of Japanese people nor reflect the intention to portray the country in a negative manner. Our sole aim is to provide examples of various types of reading matter enjoyed by Japanese.