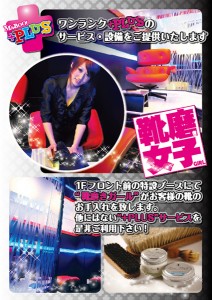 With "girl's bars" and clubs staffed by adult video actresses taking hold in recent months in Tokyo, it seemed possible that the city's penchant for perversion had peaked. Yet Yukan Fuji (Apr. 24) happily introduces Japan's first "cleavage cafe," which opened last Thursday just outside JR Kanda Station.
Manboo Plus, an outlet within the popular Mamboo chain, bills itself as a specialized version of the ubiquitous cafes that typically offer drinks, magazines, and Internet access, with the key difference being the presence of female staff members in low-cut business suits.
"In order to separate ourselves from other shops, we have decided to take the sexy route," explains a representative from the public relations department.
Arriving customers are greeted by staff members sporting black business jackets, mini skirts, and eye glasses.
"We have about 20 girls on staff," says a female employee. "The concept is to create an image around the sexy secretary look."
These gals also administer the cafe's main draw: a no-charge, shoe shine service. Yukan Fuji's reporter decides to get his stomps spic and span via the gentle stroking of Aya. The 21-year-old is quite a looker, the reporter enthuses, noting a C-cup size, mini-skirt length of no less than 30 centimeters above the knee, and copious amounts of visible skin around the neck chest.
"I love talking about anime and manga," says Aya, a dead-ringer for entertainer Misako Yasuda. "It's wonderful to have an enjoyable conversation while polishing."
For one hour of use, Maboo Plus charges customers 400 yen. Yet for a limited time, that fee has been slashed to a mere 100 yen. If you go, as always, tell 'em Yukan Fuji sent ya! (K.N.)
Source: "Nihon hatsu! Sekushii kei nettokafuu ni sennyu munenotanima ga mabushii," Yukan Fuji (April 24, page 3)
Note: Brief extracts from Japanese vernacular media in the public domain that appear here were translated and summarized under the principle of "fair use." Every effort has been made to ensure accuracy of the translations. However, we are not responsible for the veracity of their contents. The activities of individuals described herein should not be construed as "typical" behavior of Japanese people nor reflect the intention to portray the country in a negative manner. Our sole aim is to provide examples of various types of reading matter enjoyed by Japanese.