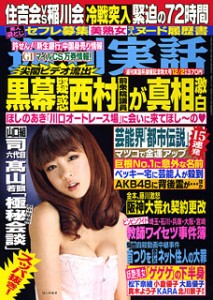 Should a Buddhist priest dabble in the pleasures of the flesh it is hardly news, well, unless it involves the body of a teenage girl, reports weekly tabloid Shukan Jitsuwa (Dec. 2).
On November 5, officers from the Yamanashi prefectural police and the Fuefuki Police Station finalized the arrest of Nobuaki Matsumoto, 57, the head priest of Fukuo-ji Temple in Minami Alps City, for violating national prostitution and pornography statutes.
According to the investigation, Matsumoto met up with a 14-year-old junior high school girl, a resident of Kai City, through broker Takanori Mochizuki (37) at JR Ryuo Station on August 9. They then went to a nearby love hotel. Also arrested was Mochizuki, who is a company director and also a resident of Minami Alps City.
The Mainichi Shimbun (Nov. 6) indicates that Matsumoto and Mochizuki became acquainted through a mobile phone matchmaking site.
"The sex was consensual," explains a local beat writer to Shukan Jitsuwa. "He paid her 40,000 yen afterwards. Mochizuki allegedly charged 30 percent as a broker fee, thus collecting 12,000 yen from the girl."
The tabloid says what astonished investigators was the fact that he was a regular customer of junior high school girls.
"He said, 'I started utilizing such services from a couple years ago, paying roughly 55,000 yen each time,'" says a person connected to the investigation. "'So, I thought paying 40,000 yen for a 14-year-old was cheap.' It's clear he is one of those guys with the Lolita complex."
Fukuo-ji Temple was founded in Edo Period (1615-1868) as a temple under Nichiren sect of Buddhism. Matsumoto was promoted to the top from the number two level three years ago. Those associated with the temple are shocked by the revelations.
"We lost one Nichiren-related temple nearby due to fire and its followers shifted over to Fukuo-ji, whereby the number of parishioners reached 150," says one 73-year-old regular. "The temple became a locally respected place, and now this happens. It is unforgivable for him to have engaged in such a sexual offense. We thought he was very dedicated."
The arrests stemmed from questions raised within the girl's family.
"Her mom was suspicious of her spending habits and consulted with the police," continues the same beat writer. "They found a list of men's numbers on her phone. There is a good possibility that more arrests will follow." (A.T.)
Source: "Hotoke no kaomosando made Nichirenshu namagu sabozu no 'JC baishun' no bachi atari," Shukan Jitsuwa (Dec. 2, pages 204-205)
Note: Brief extracts from Japanese vernacular media in the public domain that appear here were translated and summarized under the principle of "fair use." Every effort has been made to ensure accuracy of the translations. However, we are not responsible for the veracity of their contents. The activities of individuals described herein should not be construed as "typical" behavior of Japanese people nor reflect the intention to portray the country in a negative manner. Our sole aim is to provide examples of various types of reading matter enjoyed by Japanese.