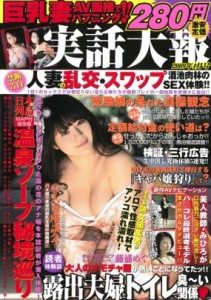 Japan this month is abuzz with news about the 12,000 yen economic stimulus payout that almost everyone in the country, including registered foreign residents, will be receiving between now and the end of the 2008 fiscal year on March 31.
Where and how the funds will be spent is the subject of extensive coverage. Amidst all this media muttering, monthly rag Jitsuwa Taiho (April) proposes to its male readers, how about blowing your windfall at the local fuzuoku?
Specifically, the magazine offers readers a selection of sex shops across the nation where they can go all the way for under 12,000 yen.
– Asahikawa, Hokkaido: After treating the hostesses at a snack establishment to a couple of beers at 1,000 yen a bottle in the town's Inarikoji drinking area, the reporter selected a thirtyish female, apparently a housewife, and the two ascended the steps to a small room on the second floor, for a brief but vigorous tussle. "I spent 2,000 yen for the beers and 10,000 for a quickie, and there's no doubt this will help raise the GDP," he asserts afterward.
– Hachinohe, Aomori: While sex shops tend to be relatively scarce in the Tohoku area, the correspondent from this town finds a hon-saro, a pink salon offering honban (the real thing). Its normal charge is 15,000 yen, but the shop offers reduced rates during happy hour. The act is performed inside a darkened semi-private cubicle atop a zabuton cushion, after first applying a condom. Many of the workers here, the reporter notes, are lovelies from the cities of Sendai and Sapporo.
– Tokyo, Otsuka: Service at a hon-heri (massage parlor offering intercourse) may be had for just 6,200 yen, with a selection of Japanese and other Asian ladies from which to choose. The reporter was also successful in bargaining down the price at a nearby hon-saro from 13,000 to 10,000 yen, but adds the caveat that customers should confirm beforehand which services they'll be receiving or they might only be ministered to orally for the same price.
– Kaga, Ishikawa: The Yamashiro hot springs is home to an old-fashioned type of establishment referred to as an ippatsu-ya (one-shot joint). The gal the reporter encountered was a lovely lass of just 23, who told him she commutes there all the way from Kanazawa City. The regular charge at these places is usually 20,000 yen, but by avoiding the services of a pimp and calling on a house directly, it's possible to get it down to 12,000. And oh yes: the reporter also precautions visitors to keep a watch out for bears that inhabit the nearby forest.
While the above delights are, alas, illegal and might entail some risk, the bottom of page 72 provides a table with 12 fully legal hako-heri establishments around Tokyo where various simulated sexual services can be obtained for less than 10,000 yen. They include places in Ebisu (1), Shibuya (2), Shinjuku (3), Ikebukuro (2), Otsuka (1), Uguisudani (1), Nakano (1) and Shimbashi (1). As always, be sure to tell 'em Jitsuwa Taiho sent 'ya. (K.S.)
Source: "Nan ni tsukaeba keiki kaifuku? Teikaku kyufukin," Jitsuwa Taiho (Apr. 2009, page 70)
Note: Brief extracts from Japanese vernacular media in the public domain that appear here were translated and summarized under the principle of "fair use." Every effort has been made to ensure accuracy of the translations. However, we are not responsible for the veracity of their contents. The activities of individuals described herein should not be construed as "typical" behavior of Japanese people nor reflect the intention to portray the country in a negative manner. Our sole aim is to provide examples of various types of reading matter enjoyed by Japanese.