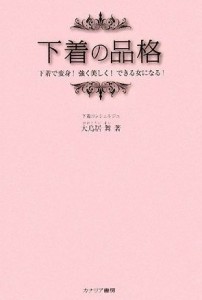 First it was "Kokka no Hinkaku" (Dignity of a Nation), the 2006 bestseller by Ochanomizu University mathematician Masahiro Fujiwara. Soon thereafter came "Josei no Hinkaku" (Dignity of a Woman) by Mariko Bando.
These days, books with hinkaku in the title are really popular in Japan. And now there's a new one. Tabloid newspaper Nikkan Gendai (Aug. 21) introduces Mai Ohtorii, who claims to be the world's first "undergarment concierge."
Ms. Ohtorii recently published "Shitagi no Hinkaku" (Dignity of Underwear, Kanaria Shobo, 1,260 yen). Its subtitle goes: "Shitagi de hen shin! Tsuyoku, utsukushiku! Dekiru onna ni naru." (Change yourself with your undergarments! Strongly and beautifully! Become a woman who gets things done.)
Considering these are the things that perverts snatch off clotheslines and nerdy guys with hidden cameras are always trying to catch with their hidden cameras, with such a title one might initially suspect Ms. Ohtorii is determined to give them a thrill. But apparently such is not the case. She's really serious about dressing well underneath.
"Even though a woman might be an eye-catching beauty, there are cases where you are disappointed because she's wearing cheap underthings," remarks Ms. Ohtorii. "The real hinkaku means giving attention to things that people can't see. Wearing sexy things like a garter belt or a thong lifts one's spirits, and naturally raises a woman's feminine appeal."
She recommends red garter belts for working gals. They're cooler in summer as well.
Ohtorii says women expect men to be equally discerning with regard to their unmentionables.
"It's a real turnoff for a gal to see some guy's boxer shorts with the elastic waistband stretched out of shape," she frowns. "Even though men will give a lot of attention to their business suit or briefcase, most of them leave underwear matters to their wives. But recently boxers that provide a hip lift effect have been selling. Designs that appeal to a fellow's sense of playfulness have been catching on too."
These days bura-otoko, men who wear brassieres, have become something of a controversy.
"Some men are captivated by the distinctive gripping sensation that a brassiere affords," says Ohtorii. "Many doctors, lawyers, politicians and others wear them."
Imagine such uptight individuals going head-to-head in a malpractice lawsuit case. Things could turn really nasty indeed. (K.S.)
Note: Brief extracts from Japanese vernacular media in the public domain that appear here were translated and summarized under the principle of "fair use." Every effort has been made to ensure accuracy of the translations. However, we are not responsible for the veracity of their contents. The activities of individuals described herein should not be construed as "typical" behavior of Japanese people nor reflect the intention to portray the country in a negative manner. Our sole aim is to provide examples of various types of reading matter enjoyed by Japanese.