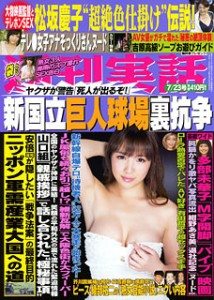 The Aokigahara forest, located in Fujikawaguchiko, Yamanashi Prefecture, is a well-known destination for people looking to end it all.
On March 30, a special patrol for the area, which sits at the base of Mt. Fuji, found the body of a woman from Fukui Prefecture in her 20s. Yamanashi Prefectural Police on July 2 arrested Akinori Yoneda, a 41-year-old resident of Tokyo's Tachikawa City, on charges of abandoning a corpse.
According to Shukan Jitsuwa (July 23), the case is a twisted tale involving a suicide pact in which one party did not follow through.
Two months before, the pair met on a bulletin board site for those contemplating suicide.
"She had been previously alluding to suicide with family members and others around her," an investigator tells the magazine. "The results of an autopsy indicated that there is a high possibility she died of suffocation."
Yoneda was identified as a suspect from the contacts on the woman's mobile phone. According to police, the suspect informed a female acquaintance that he was traveling to Fukui approximately one week before the incident.
"Yoneda told police that he brought the woman from Fukui to the forest, but he has denied abandoning her corpse," a local news reporter tells the magazine. "He said that the pair had come to an agreement at her residence that they would engage in a double suicide. But after she killed herself he didn't follow through."
On Wednesday, police also charged Yoneda with assisting in her suicide, which took place the day before her body was found, according to the Mainichi Shimbun (July 22). The suspect is alleged to have supplied her with a canister of helium, which she inhaled.
Yoneda describes himself as businessman in real estate. He owns two buildings that he rents to cover his living expenses. Given that he does not appear to be struggling financially, Shukan Jitsuwa wonders what would lead him to frequent a message board intended for those looking to take their last breath.
The aforementioned female acquaintance cannot offer clues in that regard but she says Yoneda is active on the Web.
"He receives payment from Internet-based distribution companies for recruiting women to appear on live-chat sites for adults," she tells the magazine. "Even considering the fees he pays to the women, he seems to be doing quite well." (K.N.)
Source: "Aokigahara jukai 20-dai josei iki jiken jisatsu shigan saito joren yogisha no 2tsu no kao," Shukan Jitsuwa (July 23, pages 45-46)
Note: Brief extracts from Japanese vernacular media in the public domain that appear here were translated and summarized under the principle of "fair use." Every effort has been made to ensure accuracy of the translations. However, we are not responsible for the veracity of their contents. The activities of individuals described herein should not be construed as "typical" behavior of Japanese people nor reflect the intention to portray the country in a negative manner. Our sole aim is to provide examples of various types of reading matter enjoyed by Japanese.