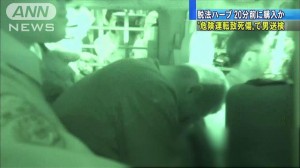 On June 24, Keiji Nagura, a 37-year-old restaurant manager from Saitama Prefecture, lost control of his car and plowed it into a group of pedestrians near the west exit of JR Ikebukuro Station, leaving a woman in her 20s dead and seven others injured.
Police determined Nagura was under under the influence of a "dappo herb," or a loophole drug.
These quasi-legal drugs contain organic material mixed with a synthetic substance whose chemical structure is similar to drugs that have been deemed in violation of the law.
According to Nikkan Gendai (July 13), the number of incidents involving the drugs has exploded over the last two years, and in spite of new legal measures put in place this month the cat-and-mouse game with police will likely continue.
"Over the past several years, there have been crackdowns on shops selling illegal pornographic DVDs," says journalist Atsushi Dashiro. "The loophole drug shops have subsequently moved in to take their place and providing funds to organized crime groups."
Complicating matters is that the drugs keep changing. "About one or two years ago, the loophole drugs had the same strength as stimulants or narcotics," says Dashiro. "But now they are stronger, and priced roughly one-fifth or one-tenth that (of the other drugs)."
Officials are concerned. The rate of traffic accidents involving loophole drugs has soared nationwide. Police did not record a single accident involving the drugs between 2009 and 2011, but between 2012 and 2013 the figure more than doubled from 19 to 41. Meanwhile, the number of people transported to emergency rooms due to the ill effects of the drugs jumped from one in 2010 to 469 last year, according to a survey of 60 medical institutions.
The Tokyo Metropolitan Government last week inspected 68 sales outlets for loophole drugs and issued warnings about the sale of substances considered dangerous.
According to public broadcaster NHK (July 15), the Ministry of Health, Labour and Welfare on July 15 announced that it will begin classifying such drugs as "medicine" with the intention being that any "unapproved medicine" — one of the many currently existing quasi-legal substances, for example — could then be cracked down upon before eventually being tagged as an illegal narcotic, which is a cumbersome process that can take months.
But will the new measures be effective? Dashiro tells Nikkan Gendai that the trade shall continue.
"These days, the manufacturers are not aware of what negative effects the products may provide," he says. "Only after using do people find out how addictive the products can be. It is very similar to the addiction that comes with cocaine or speed."
Therefore, regulation at the consumer end will not have an impact. "Making the law more strict (as proposed) will only end up further spreading even stronger products underground," he says. "The authorities may need to take more drastic measures, such as shutting down distribution channels." (A.T.)
Source: "Ura DVDten tekihatsu mo ichiin 'dappo doraggu jiko' tomaranai jijo," Nikkan Gendai (July 13)
Note: Brief extracts from Japanese vernacular media in the public domain that appear here were translated and summarized under the principle of "fair use." Every effort has been made to ensure accuracy of the translations. However, we are not responsible for the veracity of their contents. The activities of individuals described herein should not be construed as "typical" behavior of Japanese people nor reflect the intention to portray the country in a negative manner. Our sole aim is to provide examples of various types of reading matter enjoyed by Japanese.