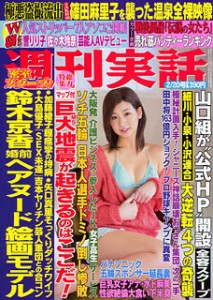 Japan's largest organized crime group now has its own Web site to augment what it claims is an ongoing policy of eliminating drugs — yet another means of presenting a more transparent image to the general public, reports Shukan Jitsuwa (Feb. 20).
The site Zenkoku Mayaku Bokumetsu Domei (Nationwide Union to Ban Narcotic Drugs) expands on the mandate of the Yamaguchi-gumi's third Godfather Kazuo Taoka, who "held the strong belief that narcotic drugs should be eliminated from society."
According to the site, which was originally launched in July of last year, Japan faced a drug crisis in the 1960s. Taoka, who presided over the gang between 1946 and 1981, believed that drugs would destroy nation and established the first incarnation of the union in 1961.
Joining the cause were academics, including the president of Rikkyo University, Masatoshi Matsushita, a former politician who served as the union's director.
As of now, the primary content appearing on Zenkoku Mayaku Bokumetsu Domei includes a YouTube video featuring members of the gang preparing New Year's mochi (rice cakes) with a wood mallet at the gang's headquarters in Kobe as an enka tribute to current top boss Shinobu Tsukasa plays as background music, photos from a Halloween party and a rundown of the organization's volunteer activities, such as its work during 1995's Great Hanshin Earthquake and the Great East Japan Earthquake in 2011.
A journalist tells Shukan Jitsuwa that this is a trial period for the site, saying that more material will be added in the near future.
According to the tabloid, the site continues the Yamaguchi-gumi's recent mandate of becoming a more open organization. This policy began with the interview Tsukasa granted to the Sankei Shimbun just after he was released from prison in April of 2011.
In July of last year, the gang revived its official newspaper in an effort to communicate the goals and policies from Tsukasa, who wrote a preface on the paper's first page, to the gang's approximately 27,700 members.
The motive behind this openness is not exactly philanthropic.
"In explaining their activities and ideas to the public," a journalist tells Shukan Jitsuwa, "this is an opportunity for citizens to open discussions about whether recent clampdowns on yakuza activities are too severe." (K.N.)
Source: "Yamaguchi-gumi ga koshiki hoomu peeji kaisetsu!?" Shukan Jitsuwa (Feb. 20, pages 212-215)
Note: Brief extracts from Japanese vernacular media in the public domain that appear here were translated and summarized under the principle of "fair use." Every effort has been made to ensure accuracy of the translations. However, we are not responsible for the veracity of their contents. The activities of individuals described herein should not be construed as "typical" behavior of Japanese people nor reflect the intention to portray the country in a negative manner. Our sole aim is to provide examples of various types of reading matter enjoyed by Japanese.