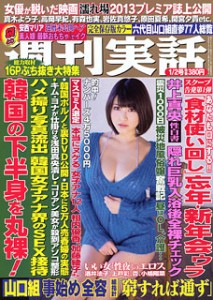 Earlier this month, Hyogo Prefectural Police announced the arrest of a woman and six teenagers for the alleged indecent assault of a 15-year-old boy inside her apartment in Amagasaki City in October.
Weekly tabloid Shukan Jitsuwa (Jan. 2) compares the power she held over her live-in companions to that of Miyoko Sumida.
The 64-year-old Sumida had allegedly enlisted the help of family members and acquaintances in multiple killings. Some bodies had been stuffed in drums, while others were found buried under the floorboards of a home, also in Amagasaki. She eventually committed suicide in her detention cell in December.
In this latest case, the manipulator is Tamae Okino, a 43-year-old bar hostess. On the morning of October 9, she allegedly instructed the six teenagers, aged between 14 and 18, to detain the boy, a third-year junior-high school student, with a kitchen knife and commit sexual acts upon him over a three-hour period.
Okino had become angered after the victim began a relationship with her eldest daughter, a 14-year-old. The pair originally met through the social-networking service LINE.
Okino, who operates a "snack" karaoke bar about a 10-minute walk from her apartment, moved to Amagasaki from Yamaguchi Prefecture in October of last year with her four children.
Starting in February, the teenage suspects, three boys and three girls, shared Okino's three-bedroom apartment. A local news reporter tells Shukan Jitsuwa that Okino, who went by the name "Mama," instilled fear within the six teenage suspects by threatening violence — often with a metal baseball bat — so they would follow her orders.
Some of the suspects were employed at Okino's bar, named Amakko. "The girls wore bikinis, camisoles and maid outfits," says the reporter.
For one hour, customers can enjoy unlimited drinks for 2,000 yen. Further, the female employees at at Amakko were available for prostitution, with a room inside Okino's apartment — known as the "sex room" — reserved to accommodate the sessions.
"The going rate for full sex was between 20,000 and 30,000 yen," says the reporter. "For her regulars, Mama would say, 'She is available to take out.'"
One of the girls told police that she was photographed while naked in the apartment. "It was to ensure obedience," continues the reporter.
A video camera recorded the erotic escapades between the customers and the girls. It is believed that one of her regulars received a DVD containing content from a session and sold it. Eventually, the material was leaked onto the Internet where it was seen by investigators.
"Authorities are attempting to apply violations related to child pornography and prostitution laws," says the reporter. (K.N.)
Source: "Amagasakichu 3danshi kankin jiken daini Sumida Miyoko ga boryoku shihai shita sei dorei genba," Shukan Jitsuwa (Jan. 2, pages 49-50)
Note: Brief extracts from Japanese vernacular media in the public domain that appear here were translated and summarized under the principle of "fair use." Every effort has been made to ensure accuracy of the translations. However, we are not responsible for the veracity of their contents. The activities of individuals described herein should not be construed as "typical" behavior of Japanese people nor reflect the intention to portray the country in a negative manner. Our sole aim is to provide examples of various types of reading matter enjoyed by Japanese.