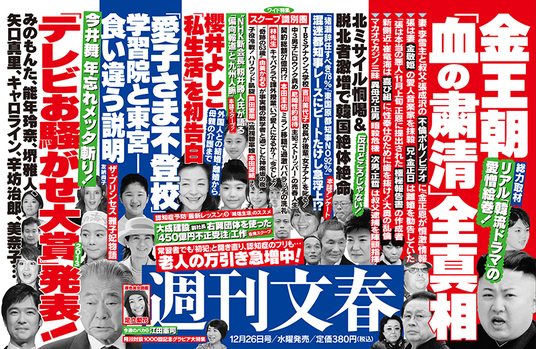 It's about time, moans Shukan Bunshun (Dec. 26).
Earlier this month, a team of 100 officers from the Tokyo Metropolitan Police swept through the Akihabara electronics shopping district, located in Chiyoda Ward, and took 10 girls under the age of 18 into protective custody on suspicion of soliciting prostitution.
The move was part of an effort this year to stamp out prostitution by teenagers, which has been materializing under the guise of seemingly legitimate businesses. To combat the problem, officers have been slapping suspects with charges related to the Labor Standards Act regarding harmful employment.
In January, law enforcement implemented a large crackdown on maid cafes and so-called joshi kosei (high-school girl) "reflexology" massage parlors. At such an establishment, many of which are in the Akihabara area, male customers are able to converse with the female attendants in private rooms. For additional charges, the patrons may receive massages and kisses.
In addition to prostitution, there are concerns about stalking. In 2009, a female employee at an 'ear cleaning' salon was left in serious condition and her grandmother dead following a knife attack at their home by a customer.
A writer covering the police beat says, "They fear a second coming (of this kind of thing)."
Arrests of customers have taken place. Earlier this month, officers took Masaharu Yamamoto, 54, into custody for paying a 17-year-old girl a total of 110,000 yen for three illicit encounters at love hotels in Tokyo in August. The pair met at a reflexology parlor. The suspect is alleged to have taken the girl off the premises on a "walking date," referred to as osanpo.
According to Shukan Bunshun, Tokyo has over 100 such parlors, with many of them being in Akihabara. Girls dressed in school uniforms can be seen openly soliciting customers in the street.
"A police patrol will come through and the street tout will disappear," says the aforementioned writer. "But she'll appear again not too long after they're gone."
In October, officers arrested Akira Shibetani, a resident of Kawaguchi City, Saitama Prefecture, on obscenity charges for he paying 18,000 yen for the undergarments of the third-year high-school student during an osanpo excursion in Akihabara on April 22.
Yet the police cannot initiate a full crackdown due to the outwardly legal nature of the operations. "In Akihabara, there is not yet a law for this kind of thing," says the writer.
As another means of mitigating the problem, police have this year begun taking girls involved in these businesses into "protective custody" [as was mentioned above] instead of "protective care," as was the practice previously.
"By taking the girls into protective custody we will defend against osampo excursions turning into stalker cases or sex crimes before it can happen."
Source: "Tsuini kyaku ga jido baishun de taiho! Keisatsu ga JK osanpo isso ni hongoshi," Shukan Bunshun (Dec. 26)
Note: Brief extracts from Japanese vernacular media in the public domain that appear here were translated and summarized under the principle of "fair use." Every effort has been made to ensure accuracy of the translations. However, we are not responsible for the veracity of their contents. The activities of individuals described herein should not be construed as "typical" behavior of Japanese people nor reflect the intention to portray the country in a negative manner. Our sole aim is to provide examples of various types of reading matter enjoyed by Japanese.