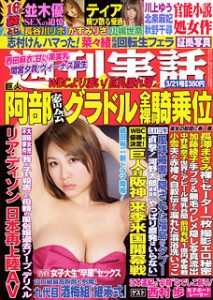 Last December, a 37-year-old Tokyo man looking to blow off a little steam wound up being slapped with drug and theft charges. He also had a lot of explaining to do for his mother, reports Shukan Jitsuwa (Mar. 21).
On February 20, prosecutors at the Tokyo District Court opened criminal proceedings against Hirohisa Ito, who has been charged with stealing underwear from an Adachi Ward apartment and violating stimulants control laws.
On December 14 at 6:00 a.m., Ito had started walking home after spending the night in a video rental cubicle when he decided to make a turn down a road not on his usual route. He then spied laundry hanging out to dry on a first-floor balcony.
"There were towels outside," he testified. "But inside I could see women's underwear."
The defendant added that he had just gotten high on stimulant drugs in the video rental parlor and his sexual desire had been upped considerably. "I thought I could use the underwear for masturbation," he said.
The apartment, however, was not empty.
"From the balcony, I heard a sound," said a statement from the unit's male occupant that was read to the court. "One month before, we had underwear stolen. So the window had been left open. I then yelled, 'Hey!'"
A tussle ensued, and Ito wound up grabbing the crotch area of the occupant before making a getaway.
"On the road outside, the defendant dropped a few articles that led to his arrest," says journalist Ryoichi Imai.
According to Imai, a statement read on behalf of his mother said he returned home at 6:30 a.m. "He handed me 35,000 yen, his bank book, and registered seal. Soon after the police arrived to take him away," she wrote.
"It was deeply moving that he would have such concern for his mother," says Imai. (K.N.)
Source: "Onanii ni shiyo shitagi doro no tenmatsu," Shukan Jitsuwa (Mar. 21, pages 168-169)
Note: Brief extracts from Japanese vernacular media in the public domain that appear here were translated and summarized under the principle of "fair use." Every effort has been made to ensure accuracy of the translations. However, we are not responsible for the veracity of their contents. The activities of individuals described herein should not be construed as "typical" behavior of Japanese people nor reflect the intention to portray the country in a negative manner. Our sole aim is to provide examples of various types of reading matter enjoyed by Japanese.