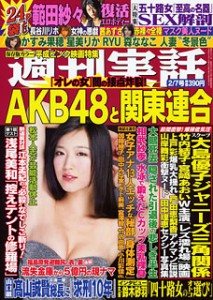 Aichi prefectural police last month arrested three male office workers on child prostitution charges. The suspects are alleged to have arranged their lolicon liaisons with girls aged between 14 and 16 through the smartphone application LIine, whose number of registered users recently exceeded 100 million.
Shukan Jitsuwa (Feb. 7) suggests that the service is a hotbed for teen hooking.
"A Line user ID is assigned with a phone number," says one IT journalist. "So impersonating someone else is not possible. However, on overseas sites fake phone numbers can be obtained."
With such a number (and presumably a different user ID), a Line message board dedicated to people interested in making friends is then accessible more or less anonymously.
"Teen girls using those boards are not in short supply," assures the journalist. "Other social-networking apps have initiated limitations in this regard, but for Line it is completely uncontrolled."
Shukan Jitsuwa says that this kind of tactic is not the only means; guys in their 30s will also send messages out of the blue to random gals in an attempt to pick them up. They are able to do so since some girls offer substantial information on their social-networking profiles.
"Young girls will make their personal information public — their real name, age, and school," says the writer. "Their Line IDs are also included. That's not all; they'll also post hot photos that basically invite guys to initiate talk sessions." (K.N.)
Source: "1okunin toppa mo baishun taihosha ga deta shojotachi wo nerau Line no wana," Shukan Jitsuwa (Feb. 7, page 55)
Note: Brief extracts from Japanese vernacular media in the public domain that appear here were translated and summarized under the principle of "fair use." Every effort has been made to ensure accuracy of the translations. However, we are not responsible for the veracity of their contents. The activities of individuals described herein should not be construed as "typical" behavior of Japanese people nor reflect the intention to portray the country in a negative manner. Our sole aim is to provide examples of various types of reading matter enjoyed by Japanese.