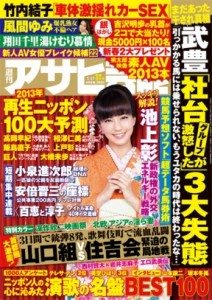 With their markets already shrinking due to Japan's ongoing recession, Japan's organized crime groups have been really feeling the pinch following the enactment of anti-organized crime legislation in October of 2011.
The statutes, which prohibit gangsters from doing business with regular citizens, have only worsened the money-making prospects for the nation's underworld.
As a consequence, according to Shukan Asahi Geino, many motivated racketeers will be heading overseas in 2013 — a venture riddled with pitfalls.
"Most of these yakuza will be forced to return to Japan," says a boss for Kanto-based gang, who cites a lack of a code of honor (referred to asninkyo), which yakuza members supposedly uphold, within the underworld of countries outside of Japan.
"However, there will be some yakuza who will be able to establish a foreign base," says the source. "These types will have financial strength and reliable connections in their local communities. They'll also have smarts."
Of course, says the boss, yakuza capable of making it overseas can also prosper in Japan, however, a lack of shinoji (funding) opportunities will keep them overseas.
"This year, there will definitely be more yakuza leaving Japan," he says. "Of course, that means more arrests also."
For those who stay, the going might get tough. "To put it simply, there are others trying to survive in the underworld — they cannot be forgotten," the boss says.
Shukan Asahi Geino notes the changes taking place in Japan's underbelly: namely, the emergence of the han-gure factions, whose members are mainly former bosozoku bikers who can be utilized by yakuza groups since they are not subject to anti-organized crime laws, and foreign gangs from such countries as China, Korea, Russia, and Iran, to cite a few.
"Mafia from Vietnam and Pakistan organized burglary teams to steal cars and jewelry from Tohoku and then ship the goods overseas," says the gangster, who goes on to say that foreign gangs will be responsible for the increased importation of heroin from Malaysia and stimulant drugs from Africa.
The boss warns all of Japan's gangsters about the consequences of going underground in a society not ruled by the traditional yakuza code of honor. "They will face danger," he says, "and they will clash with the foreign gangs."
Shukan Asahi Geino believes that the border separating the dark side of Japan with conventional society is indeed getting fuzzy.
Source: "Yumi shakai jijo Nihon yakuza no kaigai shinshuttsu ga kyukasoku suru!" Shukan Asahi Geino (Jan. 17, page 209)
Note: Brief extracts from Japanese vernacular media in the public domain that appear here were translated and summarized under the principle of "fair use." Every effort has been made to ensure accuracy of the translations. However, we are not responsible for the veracity of their contents. The activities of individuals described herein should not be construed as "typical" behavior of Japanese people nor reflect the intention to portray the country in a negative manner. Our sole aim is to provide examples of various types of reading matter enjoyed by Japanese.