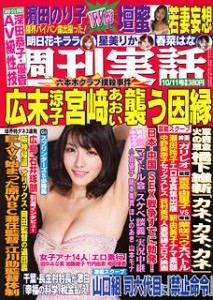 Last month, the citizens of Shiga Prefecture were put on high alert over an alarming number of cases of men molesting women, reports Shukan Jitsuwa (Oct. 11).
A total of 11 incidents of indecency were reported between September 1 and 7.
"A 25-year-old female office worker in Higashiomi City had her buttocks grabbed in the street on September 7," says a local news reporter. "The day before that, a 16-year-old girl riding her bicycle home in Omihachiman City had her chest felt up."
On September 8, prefectural governor Yukiko Kada decided enough is enough and issued the Serial Molestation Warning (pdf) in hopes of hindering the outbreak of harassment.
"Since most of the incidents have been occurring on the street at night, that fact is what is being emphasized in the warning," says the aforementioned reporter.
Shukan Jitsuwa rightly points out that prefectures often issue warnings for natural disasters or the presence of wild animals, but a proclamation pertaining to perverts might not have precedent. Yet it does…in Shiga this past spring (May 22-31).
The tabloid wonders why the prefecture has such a problem with perverts.
"Outside of the Ogoto Onsen area, there are not a lot of sex clubs," says a fuzoku writer, meaning a scribe covering commercial sex. "For that reason, pent-up desire and stress are unleashed in this way."
The writer adds that Shiga carries the image of having provincial towns in which the population is rapidly aging. "But there is a large number of OLs and school girls," continues the source. "So if a guy is lonely out in the street one night, that becomes his spot to work out his frustrations."
Shukan Jitsuwa says that there was a rash of incidents last year in which men were filming up the skirts of female university students at the prefecture's JR train stations. At the time, rumors were circulating that there was a large number of girls present due to the relatively small number of stations — a possibility that might portend trouble for the Serial Molestation Warning.
"If there are a lot of molesters in Shiga, that means that molesting is easy," says a different fuzoku writer. "That was the case with the upskirt incidents last year. Offenders from outside the prefecture were said to be participating. So the issuance of the warning could result in a strange stimulation of activity." (A.T.)
Source: "Shiga de 'chikan keiho' ga hatsurei," Shukan Jitsuwa (Oct. 11)
Note: Brief extracts from Japanese vernacular media in the public domain that appear here were translated and summarized under the principle of "fair use." Every effort has been made to ensure accuracy of the translations. However, we are not responsible for the veracity of their contents. The activities of individuals described herein should not be construed as "typical" behavior of Japanese people nor reflect the intention to portray the country in a negative manner. Our sole aim is to provide examples of various types of reading matter enjoyed by Japanese.