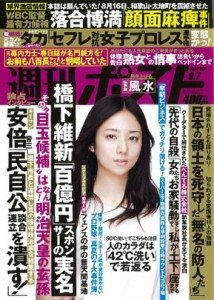 Japanese adult video (AV) actress Sola Aoi has garnered immense popularity in China. The 28-year-old's account on Sina Weibo (similar to Twitter) has attracted over 13 million followers.
However, reports Shukan Post (Sep. 7), a new actress has emerged to represent Japan as the nation's princess of porn in China.
Standing at 172 centimeters, Rola Takizawa is a real half-Japanese, half-Russian beauty. Her debut, released on the Prestige label, was uploaded to the Internet on July 12 and it reached an astounding 180,000 viewings.
The Chinese media is referring to Takizawa as "the second Sola Aoi," and a recent survey on Chinese news site Huanqiu showed that Takizawa's fans outnumbered those of Aoi by a factor of six.
The Takizawa "boom" is spreading wide, says Shukan Post. The China Youth Network, operated by the Chinese Communist Party's Young Persons' Association, referred to the escalating enthusiasm for Aoi, who made her name in such classic AV pics as "Big Tits Zombie" and "Revenge: A Love Story," and Takizawa as the "goddess battle" in an article the site published.
Interest in Takizawa in Japan, however, has not been nearly as firm.
"Takizawa's debut takes on a masochistic tone," says an AV journalist. "Her follow-up" — released on August 10 — "shows her in a totally different light: She skillfully portrays a female pervert."
The writer adds that performers of mixed heritage face difficulties in breaking through in Japan: "The number of actresses is small."
"There is a difference in tastes between what Japanese and Chinese fans prefer," explains AV writer Yusuke Takayama. "Japanese fans like cute girls. In China, they go more for the Western style, gals with faces of models.
"In China, half-Japanese actresses like Maria Ozawa and Saori Hara" — both of whom, like Takizawa, inherit their Japanese genes from their mother — "have found favor," Takayama adds, "along with many quarter-Japanese actresses."
Takayama, however, believes Aoi's star is not about to fall in China.
"An actress' span of popularity is longer in China than Japan," says the writer. "Fads in Japan last six months, but in China they can go for three years. Aoi's presence in China has exceeded that but she still appears to have a large degree of firmness in her popularity."
Source: "AV joyu Takizawa Rola ga Chugoku de ninki 'Aoi Sola nuku' no koe 6 wari," Shukan Post (Sep. 9)
Note: Brief extracts from Japanese vernacular media in the public domain that appear here were translated and summarized under the principle of "fair use." Every effort has been made to ensure accuracy of the translations. However, we are not responsible for the veracity of their contents. The activities of individuals described herein should not be construed as "typical" behavior of Japanese people nor reflect the intention to portray the country in a negative manner. Our sole aim is to provide examples of various types of reading matter enjoyed by Japanese.