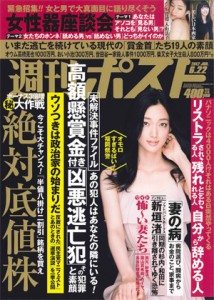 The adult-toy marketplace is said to have annual sales of between 200 billion and 300 billion yen. While Tenga is widely known as a leading brand in the production of plastic self-pleasuring pods, weekly tabloid Shukan Post (June 22) introduces its readership to Groomin, a masturbation aid on the rise.
Galaku, the maker of the devices, launched its product development and planning divisions in Autumn of 2010. Its first products hit store shelves in February of this year.
"Groomin products aim to make men's masturbation a regular exercise," explains a female public relations representative at Galaku. "The products are designed to prolong men's performance long into the future."
The container's design resembles that of a hair wax container. Inside is a syrup-like lotion and gummy white sphere — about the size of a golf ball — with a hole. The liquid is applied along the inner walls. After inserting the penile head, the gummy ball is then unfurled into a dimpled sheet that is repeatedly rolled over the shaft.
"We have invented high polymer compound with a high elasticity called Ecolast," continues the Galaku representative. "It is harmless to the human body. We also utilize a lotion that is easy to wash and does not become sticky so as to reduce the risk of peeling skin."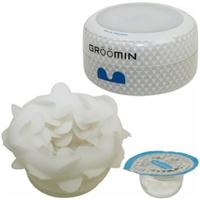 Groomin, priced at 580 yen, comes in Mild Touch and Wild Touch versions — the difference being in the texture of the polymer.
Regular users of these products will realize that Groomin's design and manner of usage are very similar to that of Tenga's Egg Series, which debuted in 2008 and has shipped approximately 6.5 million total units.
Tenga views the competition as being healthy for the industry.
"We want more and more people to experience the joy of masturbation through artificial aids," says a Tenga representative. "It will be good for the industry if more products are introduced and the means for purchase is made easier."
Shukan Post promises to keep its readers abreast of any future developments. (A.T.)
Source: "Shin onanii guzzu 'Gruumin' ha oja Tenga no raibaru to naruka," Shukan Post (June 22, pages 150-151)
Note: Brief extracts from Japanese vernacular media in the public domain that appear here were translated and summarized under the principle of "fair use." Every effort has been made to ensure accuracy of the translations. However, we are not responsible for the veracity of their contents. The activities of individuals described herein should not be construed as "typical" behavior of Japanese people nor reflect the intention to portray the country in a negative manner. Our sole aim is to provide examples of various types of reading matter enjoyed by Japanese.