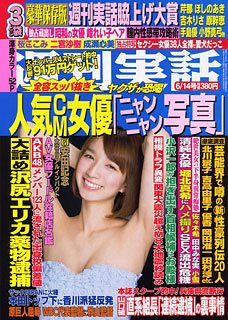 With the opening of the 634-meter-high Tokyo Sky Tree in Sumida Ward, Tokyo, Japanese chests swelled with pride once again, as their nation claimed to be home of the world's highest free-standing tower.
Closer to terra firma, weekly tabloid Shukan Jitsuwa (Jun 14) reports something else is also swelling, if not with pride, then with lust. For while Japan might not be home to the world's tallest prostitutes, there are at least enough lascivious long-legged lasses in the world's oldest profession here to make for a three-page photo essay introducing five of them.
The first, photographed from a low angle that accentuates her 180cm height, is 29-year-old Miyuki, who plies her trade out of a hote heru (erotic massage operating from a hotel) in Tokyo's Gotanda district. Miyuki's impressively long inseam of 86cm (33 inches) indicates she's mostly leg, but from her vital statistics (87-62-90cm) there appears to be plenty of upper appendages with which to play.
When requesting a reservation for Miyuki tell the shop, which is called M'sQ's, that you saw it in Shukan Jitsuwa and they'll knock 4,000 yen off the price.
Tallest of the five is 182cm Kanon, age 26, who works out of a hote heru in Ikebukuro named Hachimitsu. As shown in the photo, she's certainly the kind of gal a customer can look up to — she towers over him, and his nose gets buried in her cleavage. Kanon boasts vital statistics of 96-64-95 and receives 15,000 yen for each 50-minute session.
Ikebukuro also boasts another hote heru for fetishists who find lofty females fetching. Its name is Tall Mania, and all its gals are big. Rina, age 32, stands 180cm and boasts measurements of 97-64-100. For an outlay of 12,000 yen, she's yours, at least for 50 minutes.
In Osaka await Asuka (28) a denizen of Fetish Club and Shuzuka (24), who toils at a hote heru named Mugitamago. Both stand 181cm. So for all you guys out there who glanced at the Tokyo Sky Tree and came away with an unexplained craving to ball a big babe, the sky's the limit. PS: The telephone numbers are included for all five establishments introduced in the article. (K.S.)
Source: "Shincho 180-senchi ijo no cho-choshin bijo fuuzoku tozai," Shukan Jitsuwa (June 14, page 37)
Note: Brief extracts from Japanese vernacular media in the public domain that appear here were translated and summarized under the principle of "fair use." Every effort has been made to ensure accuracy of the translations. However, we are not responsible for the veracity of their contents. The activities of individuals described herein should not be construed as "typical" behavior of Japanese people nor reflect the intention to portray the country in a negative manner. Our sole aim is to provide examples of various types of reading matter enjoyed by Japanese.