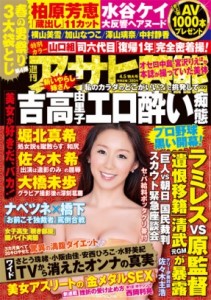 As evidenced by the bust of panty-peeking parlors in Shibuya and three other Tokyo locations in February, sexual services featuring high school girls are escalating as the clubs attempt to evade crackdowns by police, reports Shukan Asahi Geino (Apr. 5).
In the adult-entertainment industry, such a club is known as a nozoki heya, or peeking room, in which joshi kosei (high school girls) strip before customers seated on the opposite side of a two-way mirror.
The weekly tabloid goes undercover to give its readership a first-hand look.
At a club in a metropolitan entertainment district at around 5 p.m., a middle-aged reception lady greets customers in the waiting room, which by this time is already filled with men. The wait outside was 30 minutes, but is usually much longer, the magazine is told.
Pictures showing girls in high-school uniforms with identification numbers cover the walls. Young voices and giggles emerge from other side, reminding the writer of a festival setting. Entry to the club is priced at 5,000 yen, with personal selections for each girl running 2,000 yen.
After a bit of a wait, the scribe is guided to a small room beyond a curtain with a mirror. As if looking into a fish tank at an aquarium, six or seven uniformed girls in stockings or bare feet can be spotted reading magazines or eating snacks.
"No. 5, M-chan, and No. 7, please proceed to the window," comes an announcement over the speaker system.
M-chan, who has been checking her mobile phone, proceeds to the mirror. She first bows and then flips up her skirt to offer a close-up shot of her surprisingly silky skin.
The next girl seemingly ups the ante by spreading her legs, shaking her hips, and posing doggy-style to show off her colorful undies — all performed without any apprehension, the writer notes.
In the next booth, there is T-chan who is diddling herself with her legs apart. Down the line is a gal exposing her cleavage and blue bra. Not to be outdone, T-chan then shifts to a rear-view pose right up against the window.
Fear not, dear reader, a supply of Kleenex is readily available at the club.
"The girls receive a portion of the fees charged for being selected," says a writer who specializes in underground sex services. "They try to top each other in what amounts to a competition. Some may play with a banana; others will rub their private parts while wearing underwear."
A writer who has expertise in businesses featuring high school girls says that since the girls do not undress they just receive warnings from law enforcement. "Plus," the source continues, "shops only pay a penalty so they can continue to close down and open up again as it is more cost effective than selling DVDs." (K.N.)
Source: "Joshi kosei 'nozoki heya' ero abunai yami baito jittai," Shukan Asahi Geino (April 5, pages 212-213)
Note: Brief extracts from Japanese vernacular media in the public domain that appear here were translated and summarized under the principle of "fair use." Every effort has been made to ensure accuracy of the translations. However, we are not responsible for the veracity of their contents. The activities of individuals described herein should not be construed as "typical" behavior of Japanese people nor reflect the intention to portray the country in a negative manner. Our sole aim is to provide examples of various types of reading matter enjoyed by Japanese.