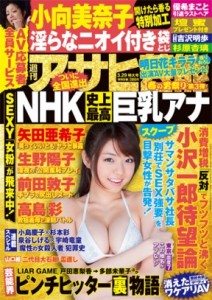 Overheard at the entrance of a restaurant in Tokyo's Shinagawa Ward: "Are you here to find a marriage partner?"
Not exactly "How many in your party, sir?" but Shukan Asahi Geino (Mar. 29) is reporting from inside izakaya Shimanto, where the customers are as available as the Schezuan dishes.
Shimanto allows its diners to mix and mingle with one another and have their fortunes as related to love told as they dine on dumplings and noodles.
The tabloid's writer is overwhelmed by the energy of clientele, and spots a group of three ladies sitting on the right-hand side of the eatery. He is provided a table at the back end of the room. It is a Monday at around 7:00 p.m., and about 80 percent of the seats are occupied.
After offering a friendly greeting, cordial smiles are given in return. "While I admit that I am engaged in konkatsu" — or marriage-partner hunting — "this place also offers fortunetelling," says one of the trio. "So I came for both reasons."
The fortunetelling service is apparently well known, and on this day there is quite a wait, so the writer continues chatting up the gals, who are all 28 years old and former classmates from middle school. "I am from the outer edge of Chiba Prefecture," says one, who presents a striking resemblance to actress Erika Toda. "I was here with a senior colleague last time. This time I'm with friends. While we want to be evaluated but what we want to know is our love luck. I mean, can I get married?"
The chat goes well, with the crux of the conversation being about what types of guys they prefer. The scribe then plays what he thinks is a shrewd move by ordering sweets.
Time flies by. The next think he knows it is past 10 p.m., and the eatery is empty — a perfect time to hit up the fortuneteller. "You don't have good judgment regarding ladies," explains the soothsayer, who the writer notes appears to be nearly asleep or going through some deep thinking with her eyes shut.
"But you do possess a large amount of luck," she continues. "I foresee you meeting many ladies up until April, but since you cannot assess them well on your own you'll ask your mom to see them at the earliest opportunity."
In the end, the writer exchanged contact information with the three gals — a sure sign that none of them had ever cracked open an issue of the magazine.
"I opened this place 18 years ago," says the owner. "First, it was about me voluntarily hooking up random customers. Now, I am providing regular support services in konkatsu."
He claims to have assisted 100 couples.
"The fortunetelling is the one based on that of our ancestors, obtained from a Buddhist priest," he continues. The person will submit a date of birth and the location of his father's tomb."
A discount of 500 yen is provided to those interested in konkatsu activities for the special all-you-can drink and eat combo (regularly priced at 3,500 yen). The price can't be beat, says Shukan Asahi Geino's writer, who closes his piece by saying that he is looking forward to replies from messages he sent to the girls. (K.N.)
Source: "Dokushin OL ga atsumaru Tokyo Shinagawa-ku 'konkatsu izakaya' ni sennyu shita, Toda Erika ni 28 sai jimu no keitai wo soku GET," Shukan Asahi Geino (Mar. 29, page 70)
Note: Brief extracts from Japanese vernacular media in the public domain that appear here were translated and summarized under the principle of "fair use." Every effort has been made to ensure accuracy of the translations. However, we are not responsible for the veracity of their contents. The activities of individuals described herein should not be construed as "typical" behavior of Japanese people nor reflect the intention to portray the country in a negative manner. Our sole aim is to provide examples of various types of reading matter enjoyed by Japanese.