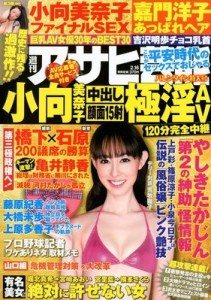 Sports tabloids have in recent weeks speculated on love affairs between Texas Ranger Yu Darvish and porn actress Kirara Asuka and former golfer Miho Koga. Yet weekly tabloid Shukan Asahi Geino reports that his former team, the Hokkaido Nippon Ham Fighters, are happy to have ended their marriage to the pitcher.
"A member of management kept repeating that it would be best for the team if he left, and allegedly these sentiments are shared by many in management," says an individual associated with the Fighters.
The ace compiled an 18-7 record and a 1.44 ERA and a 276/36 K/BB ratio over 232 innings this past season with the Fighters of Nippon Professional Baseball's Pacific League. Yet, the hurler, who in January signed a six-year, $60 million deal with the Rangers, did not fit in with the team's stance on the need for self-sacrifice.
"Darvish became unbeatable in Japan," says the same individual, "and he was saying that the only move he can make is to go to the Major Leagues. If that was in fact the case, he should have declared this outright, but he instead kept everything undecided for a month, thus causing a negative effect on the team."
The source continues to say that one coach said that the team does not need a player whose focus is on himself. While some players worshiped him, he seemed a bit pompous and isolated, believes the tabloid.
"It is a concern that he is not showing a keen interest in what it means to be playing in MLB, and he is also lacking the attitude to learn," says a desk editor at a sports paper. "Obviously, MLB does not believe it to be healthy example for young kids when Darvish arrived wearing a T-shirt promoting illicit drugs. Did he not know that the team's clean-up hitter (Josh) Hamilton is struggling with drug problems? After getting that fat contract, you would think he would want to make friends with his teammates first."
Yet if he can dominate the American League, the critics will be silenced, says the tabloid.
Yoko Umeda, a U.S.-based sports journalist, however, predicts a tough beginning for him, citing the difference between the balls used in MLB and NPB as a concern.
"Even if he has been practicing with the MLB ball, a pitcher like him, who relies on a variety off-speed pitches, usually gets panicked with the difference humidity levels that exist across the U.S. (Hideo) Nomo and (Kazuhiro) Sasaki struggled. It will depend on whether he can overcome that during the first four or five months."
Nonetheless, expectations are high for the rookie, who received the highest posting bid ($51.7 million) in history.
Yuichi Setsumaru, a sports announcer who covered the Rangers during their back-to-back AL Championship titles over the past two seasons, has strong faith that Darvish will fair well. "Local writers were so excited to have him join the team after the repeat, believing he will only make them stronger and lead to a real dynasty."
The announcer views the Texas media's reputation for being more friendly, as opposed to cities like New York or Los Angeles, as a plus for the pitcher. "We know he is good, so I hope to see him showcase the strength of Japanese baseball." (K.N.)
Source: "Darubisshu Yu wo nerau 'Koga Miho vs Asuka Kirara' 'kono chiimu ni ha hairanai," Shukan Asahi Geino (Feb. 16)
Note: Brief extracts from Japanese vernacular media in the public domain that appear here were translated and summarized under the principle of "fair use." Every effort has been made to ensure accuracy of the translations. However, we are not responsible for the veracity of their contents. The activities of individuals described herein should not be construed as "typical" behavior of Japanese people nor reflect the intention to portray the country in a negative manner. Our sole aim is to provide examples of various types of reading matter enjoyed by Japanese.