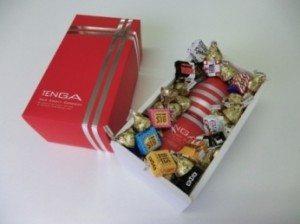 St. Valentine's Day is just around the corner, and this weekend Japan's office ladies will be flocking to confectioners to purchase packets of obligatory giri-chokoreeto candies to present to male co-workers.
The logic of this custom, of giving sweets at the workplace on February 14, benefits only to those in the retail and dental trade. But if the giver has no amorous feelings toward the recipient, it's probably about as romantic as taking out the trash in the morning.
Some companies have even considered banning the practice outright — except, of course, when the feelings of affection between employees are genuine.
So then, what to give the man who has nothing (except his palm)? Tokyo Sports (Feb. 9), thinks that instead of sweets, the gals at the office ought to shell out their hard-earned money for something that's certain to satisfy. To wit, one of the variety of high-tech, feel-so-good, self-pleasuring plastic products marketed by Tenga, which this month, it should be pointed out, is a sponsor of The Tokyo Reporter.
One woman in her 40s relates what happened when she bestowed her boss with a Tenga goodie on last year's St. Valentine's Day.
"When he opened the box, at first he froze up, but then at the moment he figured out what the Tenga was for, he beamed with delight," she says. "The other office staff were gathered around to watch, and they let out a roar of laughter."
The above story has got to be true — it's impossible to make up stuff like this.
Becoming the recipient of the gift that keeps on coming, however, can elicit are all kinds of reactions. One gentleman turned to his benefactor, a woman in her 20s, and luridly suggested, "Tonight, what do you say we use it together?"
To which she firmly but politely declined.
Even when a Tenga device is given as a gag, such risks are always present. So women who present such gifts, with the sentiment that the man on the receiving end can be trusted to accept it gracefully, they may also be obliged to make efforts to do anything to avoid damaging that trust.
The biggest problem with presenting a Tenga may be the o-kaeshi (reciprocal gift) that's due on March 14, White Day. For an inexpensive means of self-induced female frolic, Tokyo Sports suggests a keyholder-size, battery-powered female sex aid called "Mobile Derma," which sells for 980 yen.
Needless to say, in the case of "H" gifts bestowed to either gender, the giver should take pains to ascertain beforehand that the corporate culture at one's place of work is tolerant of this kind of sexual openness. (K.S.)
Source: "Eh? OL no aida de dairyuko, onani guzzu. 'Giri' nara choko yori ukeru," Tokyo Sports (Feb. 9)
Note: Brief extracts from Japanese vernacular media in the public domain that appear here were translated and summarized under the principle of "fair use." Every effort has been made to ensure accuracy of the translations. However, we are not responsible for the veracity of their contents. The activities of individuals described herein should not be construed as "typical" behavior of Japanese people nor reflect the intention to portray the country in a negative manner. Our sole aim is to provide examples of various types of reading matter enjoyed by Japanese.