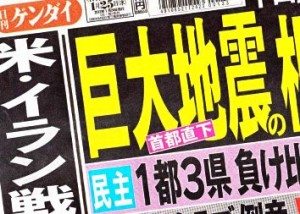 When the springs on the beds at Ikaho spa, near Shibukawa City in Gunma Prefecture, got a little bit too hot, it was the police, not the fire department, that came to the rescue.
Nikkan Gendai (Jan. 25) reports that snack bar operator Kenichi Ando, Matsuba-kai gang member Jiro Sato and four others were arrested on charges of violating the Immigration Law and abetting prostitution. Specifically they lured two Thai women to Japan and charged them 5.5 million yen for "travel expenses," which they were expected to pay back by engaging in the world's oldest profession.
The two women, ages 32 and 35, were taken into protective custody.
According to police, when not working, the women were held in a padlocked room.
"The women claimed they were threatened by their keepers, who told them, 'If you don't pay back what you owe us, you'll be going back home to Thailand in a white shroud.'" a police source is quoted as saying. He added the women charged their customers 12,000 yen per hour-long session, which allegedly included intercourse. "A woman from Taiwan also seems to be involved, we're looking into her role in the prostitution."
"Tricking foreign women into working as hookers is one form of 'white slavery,' "pink" journalists Yukio Murakami tells the paper. "It's one of the ways gangs make their money. Japanese recruit women from Thailand and the Philippines, and set them up with gangsters. The women are then taken to a lonely hot springs area where men visit solely for meeting prostitutes. Most of the action is upstairs over the snack bar.
"The keepers eavesdrop on the women while they're turning tricks to make sure they don't beg the customers to help them," Murakami adds.
The women are only paid enough to buy bento (boxed meals) and cosmetics, and are prohibited from going out. Until their "loans" are repaid, they are made to work like "horses pulling carts."
"If a woman is attractive and popular, then about the time that she's worked off her loan she'll be told, 'A customer complained about your poor service, and we're levying a fine on you,' or some other lie to keep her on the job longer," Murakami adds. "In addition to Filipinas and Thais, females from Russia living in Tokyo and other cities who have run up large debts are also sent to work in the onsen gulag."
Nikkan Gendai sternly advises its readers against having anything to do with such criminal enterprises. (K.S.)
Source: "Tai josei ni baishun kyoyo; ichijikan niman-en 'jinshin baibai' no jittai," Nikkan Gendai (Jan. 25, page 7)
Note: Brief extracts from Japanese vernacular media in the public domain that appear here were translated and summarized under the principle of "fair use." Every effort has been made to ensure accuracy of the translations. However, we are not responsible for the veracity of their contents. The activities of individuals described herein should not be construed as "typical" behavior of Japanese people nor reflect the intention to portray the country in a negative manner. Our sole aim is to provide examples of various types of reading matter enjoyed by Japanese.