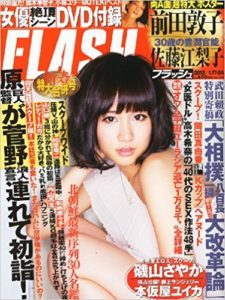 Just after 12:10 a.m. on January 1, five upper-level members of the Yamaguchi-gumi criminal syndicate, including top boss Shinobu Tsukasa, 69, who is also known as Kenichi Shinoda, arrived at Gokoku Shrine, located near the gang's headquarters in Kobe, Hyogo Prefecture, for their first visit of the year, a practice known as hatsumode.
In addition to complications facing the gang regarding associating with the general public following the passage of legislation in October, Flash (Jan. 17-24) reports that the visit was also interesting due to the presence of one member in particular.
Chairman Hirofumi Hashimoto, 64, had been out of the spotlight since apparently being connected to Shinsuke Shimada, the popular entertainer who over the summer abruptly announced his retirement from the entertainment business. He cited an exchange of e-mails with an upper member of the Yamaguchi-gumi, presumably Hashimoto, as the reason.
"The chairman never had an intention to hide," says a writer covering topics related to boryokudan, or organized crime syndicates. "He actually took part in the mochitsuki (rice-cake making) event last December. The media simply didn't know where he was."
A few minutes after the first group was gone, two more managers arrived, and they were followed by an additional 11 members. During a typical year, about 20 members will come to shrine on New Year's Day to perform various ceremonial activities. This year is the first year for Tsukasa to pay a New Year's visit since being released from jail in April.
"I was surprised at the fact that quite a lot of executive members visited (Gokoku Shrine)," explains the boryokudan writer, "though I had imagined that only one or two would come as a 'personal' visit this year.
The top boss, Tsukasa, and the other members arrived at the shrine and joined the line with general visitors, a consequence of anti-gang legislation that restricts the fostering of organized-crime activities. The group announced in November that it would not make an official visit this year.
According to Flash, Hyogo prefectural police concluded that prayers carried out in small groups would be acceptable.
"Some people took Tsukasa's photos with mobile phone or looked into his face when they noticed it was the boss of Yamaguchu-gumi," continues the writer. "Tsukasa didn't seem to find it annoying and even gave them a smile."
In past years, the members would go into the hall of worship from another entrance and never have contact with general people.
"However, this year they offered prayers among the regular visitors without going into the hall," the journalist continues. "That was an extraordinary scene."
Source: "Tsukasa kumicho & wakagashira hosa Hashimoto kaicho bohaijore de ireizukushi kutsujoku hatsumode," Flash (Jan. 17-24, page 15)
Note: Brief extracts from Japanese vernacular media in the public domain that appear here were translated and summarized under the principle of "fair use." Every effort has been made to ensure accuracy of the translations. However, we are not responsible for the veracity of their contents. The activities of individuals described herein should not be construed as "typical" behavior of Japanese people nor reflect the intention to portray the country in a negative manner. Our sole aim is to provide examples of various types of reading matter enjoyed by Japanese.