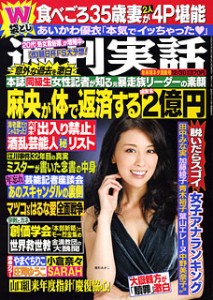 Kabuki star Ebizo Ichikawa has said that he was the victim of the early-morning altercation last month in Tokyo that left him with substantial facial injuries. However, following the arrest of his alleged assailant, Rion Ito, on December 10, weekly tabloid Shukan Jitsuwa (Dec. 30) indicates that the stage star was the one who threw the first punches.
After his apprehension, Ito said, "I did not instigate the fight," which took place in a ritzy bar in the Nishi Azabu district on the morning November 25, and added that further facts are set to come out. Among the latter might be that the former leader of a bosozoku motorcycle group, of which Ito is a member, was hit first by Ebizo. The former leader says that he has a medical report that shows that his injuries will require three weeks to heal.
Shukan Jitsuwa reports that he will likely make the medical report public, which would make both him and Ebizo assailants in the case — a facet certain to complicate matters. The former gang leader's attorney is planning on holding a press conference to counter-argue what Ebizo said earlier, namely that he was attending to a drunk friend when he was assaulted by Ito.
Little is known about the former bosozoku leader other than he is considered Ito's "big brother," and known to Ebizo, a claim that the star has denied.
"He came back to our school after he changed schools once," said a female Shukan Jitsuwa reporter who is his former middle school classmate. "Everyone was shocked that he had dyed his hair blond. But that didn't isolate him. He oftentimes make crude jokes in a way that people liked, naughty but not offensive. Plus he was very protective of his friends."
A mother of one of his classmates back then says he was very polite when he came to her home. "He should come out and tell us the truth," explains the woman. "The mass media is just throwing around all these different stories." (K.N.)
Source: "Honshi josei kisha to dokyusei moto bosozoku riidaa no sugao," Shukan Jitsuwa (Dec. 30, pages 30-31)
Note: Brief extracts from Japanese vernacular media in the public domain that appear here were translated and summarized under the principle of "fair use." Every effort has been made to ensure accuracy of the translations. However, we are not responsible for the veracity of their contents. The activities of individuals described herein should not be construed as "typical" behavior of Japanese people nor reflect the intention to portray the country in a negative manner. Our sole aim is to provide examples of various types of reading matter enjoyed by Japanese.