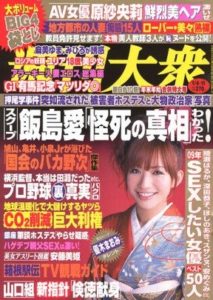 Jealousy is the source of recent criticism being leveled toward deaf hostess, Rie Saito, 25, who rose to the top of Tokyo's most extravagant entertainment quarter and has since published a best-selling book, reports Shukan Taishu (Jan. 4).
Saito lost her hearing soon after birth. While known as a bad girl during her middle-school days, she learned the subtle beauty of the hostess hospitality business and ascended to the number-one position in all of Ginza — a world of "night butterflies" — through the use of hitsudan, or written communication.
Such a drama-filled life moved many people. Her book titled "Hitsudan Hostess," published by Kobunsha in May last year, became a best-seller with 200,000 copies sold. On January 10, a TV drama of the same title and starring actress Keiko Kitagawa will be aired nationwide on Tokyo Broadcasting System.
However, there are ominous rumblings being circulated about Saito regarding her book and upcoming drama, the weekly warns.
An individual with knowledge of the entertainment industry explains, "While the credibility is questionable, a staff member at her agency claims that Saito-san is acting independent of the agency and that the managing director is said to be considering filing a lawsuit."
In an interview, the managing director tells Shukan Taishu about their partnership, indicating that he first met Saito when she was a hostess in Aomori Prefecture. "I received a request from her to become a model upon her relocation to Tokyo," he says. "While I do manage the entertainment production office, I am also involved in the production of documentaries on TV. With my personal wish being to support her, we reached agreement on an exclusive contract in January, 2009. The book was our first project."
Based on interviews conducted by the weekly, however, Saito's representatives claim that "the contract is invalid" and that the situation between the parties has become ugly. Saito's attorney says, "The contract includes clauses that apply to Saito-san for only certain duties and thus their claim is legally invalid. We interpret it to mean that she can act on her own without being limited by the contract."
An attorney representing the agency counter argues: "The contract has her signature and stamp of approval. Their conduct of trying to make this contract invalid is invalid in itself and we may consider seeking compensation."
Further, whispers through Ginza indicate that while the book's title suggests that she works in the hitsudan-style with all of her customers it appears that is not the case. A senior manager at Club M, the high-end establishment where she worked, confesses: "Frankly, I had no impression that she was utilizing hitsudan, and since she was in the spotlight showing this technique on television, some clients went home disappointed."
Her publisher, Kobunsha, fires back, saying that Saito has mastered lip reading and voice training through schooling and the instruction of her mother. "With regulars, she can conduct conversations at a slow pace," a representative at the publisher says. "This has already been documented during an appearance on CX Super News. Since her book was published, the mama-san and the owner of the club where she worked went on TV a number of times to express their respect for her professionalism. It is simply not right to criticize someone like her, a person who didn't let her disability deter her and learned to acquire both lip reading and written communication skills through rigorous effort."
Also complicating matters is an appearance on television in August in which Saito was asked to show her residence — a domicile that turned out not to be hers. "That is her friend's apartment," explains the same Kobunsha staffer. "That friend often goes abroad for long-term business trips. She did indeed live there while the friend was away."
The weekly concludes that petty voices are attempting to sully her image just before the TV show runs. An individual who is knowledgeable about Ginza culture says, "She is a new heroine who emerged within the competitive Ginza scene like a hurtling comet. These rumors are being used to hammer down someone who stands out. So, she is a victim. I want her to overcome these challenges and become recognized as truly Ginza's number-one hostess."
Source: "Ginza hitsudan hosutesu ni 'yarase giwaku' kyufujo!!" Shukan Taishu (Jan. 4-11, pages 226-227)
Note: Brief extracts from Japanese vernacular media in the public domain that appear here were translated and summarized under the principle of "fair use." Every effort has been made to ensure accuracy of the translations. However, we are not responsible for the veracity of their contents. The activities of individuals described herein should not be construed as "typical" behavior of Japanese people nor reflect the intention to portray the country in a negative manner. Our sole aim is to provide examples of various types of reading matter enjoyed by Japanese.