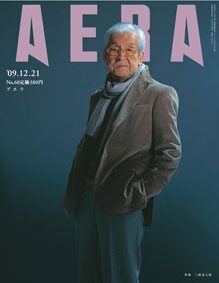 What, Aera (Dec. 21) asks, would happen if a Japanese Woods got caught making extramarital whoopee by his tigress?
"I made him grovel on his hands and knees, and promise in writing to turn over his entire pay packet to me every month," mutters wounded wife Masumi, age 37, after her husband's dalliance was revealed. "But that wasn't enough to my stifle my anger, so I made him buy me a Cartier ring."
But being the vindictive type, Masumi still wasn't satisfied.
"I'm the type who believes in "an eye for an eye, she says. "So to get even with him I had an affair. But it's a pretty drastic form of treatment, and not one that I'd recommend."
Two years ago Akiko, 46, found a letter from another woman in her husband's wallet. But she acted as if she hadn't seen it.
"I felt like blowing up, like Elin (Woods' wife) did," she says. "But I only earn about 100,000 yen a month from my part-time job. And we have three kids, the youngest of whom is still in middle school. There's no way I could support them on my own.
"A husband is just a tool to support the family," she sighs. "So I'll use that letter as my ace in the hole when I need it."
"When a wife becomes aware of her husband's infidelity, it's better for her to think of what sort of barter arrangement she can work out in her favor," advises love and marriage counselor Mayumi Futamatsu. "There's absolutely nothing stored in the memory of a husband's cell phone that will gladden a wife.
"On the other hand, if she picks it up to look inside, there's always the chance that she will force his hand, and he'll opt for the girlfriend over her. She may have to be prepared for a session of 'forgiveness training.'"
When confronted with evidence in her hubby's cell phone that he was not going into the office on his holiday but actually having an affair, Eri, 33, managed to preempt possible future shenanigans by insisting he stay with her and their 5-year-old son on Christmas Eve.
"I want to make up with him," she says. "But forgiving people for their sins is extremely difficult." (K.S.)
Source: "Otto ga uwaki shitara doushimasuka?" Aera (Dec. 21, page 38)
Note: Brief extracts from Japanese vernacular media in the public domain that appear here were translated and summarized under the principle of "fair use." Every effort has been made to ensure accuracy of the translations. However, we are not responsible for the veracity of their contents. The activities of individuals described herein should not be construed as "typical" behavior of Japanese people nor reflect the intention to portray the country in a negative manner. Our sole aim is to provide examples of various types of reading matter enjoyed by Japanese.