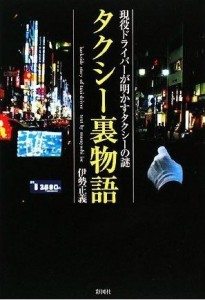 Since earlier this year, when scandal broke out over taxi drivers' cozy practice of according special hospitality to members of the bureaucracy — resulting in their being derisively nicknamed "izakaya taxi" — the hire car business has really been taking it on the chin.
So the timing couldn't be better for a book about what really goes on aboard Tokyo cabs. In June, publisher Saizusha released Masayoshi Ise's "Takushii Uramonogatari" (Inside Stories of Taxis) (224 pages, 1,260 yen).
Ise, a 44-year-old native of Chiba Prefecture, is still working at his trade, making him the only cabbie scribe in Japan, he claims.
According to data from the publisher and the author's blog, chapter 1 opens with a dramatic account of a yakuza desperado, blood pouring from a wound on his face, making use of a cab as his getaway car. Other passengers actually have ordered drivers to "follow that car." And drivers on the graveyard shift insist they have encountered paranormal phenomena.
Chapter 2 deals with wheeling and dealing on the road — the ways passengers negotiate discounts. And subsequent sections reveal plenty of lusty behavior by passengers, with couples (and even a threesome) getting it on in the back seat, as the nervous driver tries unsuccessfully to keep his eyes averted.
An excerpt: "The couple began to embrace. I could hear them making noises…When I looked in the rearview mirror I could see her going down on the man. He was gazing out the window, dispassionately watching the scenery go by as if nothing was amiss…"
Ise's new book is apparently not the first of its kind to reveal such activities. In 1999, a driver named Miyazawa gained minor notoriety after issuing a self-published, limited-edition booklet titled "Takushii Unchan no Hitori Goto" (A Taxi Driver's Soliloquy). That work, alas, was not to be found on Amazon Japan. (K.S.)
Note: Brief extracts from Japanese vernacular media in the public domain that appear here were translated and summarized under the principle of "fair use." Every effort has been made to ensure accuracy of the translations. However, we are not responsible for the veracity of their contents. The activities of individuals described herein should not be construed as "typical" behavior of Japanese people nor reflect the intention to portray the country in a negative manner. Our sole aim is to provide examples of various types of reading matter enjoyed by Japanese.