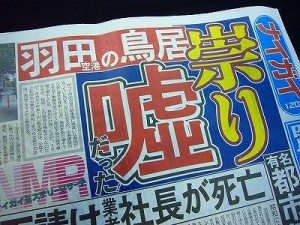 Who said sex sells? According to Cyzo (April), it would seem that in this economy even the most stalwart of truisms is falling by the wayside.
The monthly magazine is reporting that daily newspaper Naigai Times has made a drastic shift in policy by removing all erotic content from its 14-page sheet starting with the evening edition on April 6.
One of the tabloid's staff members explains: "The current owner is a real estate company. They have made a firm decision in deciding that smut has no future with the 'Ero Zero' plan. Obviously there are concerns because it was a money maker."
Cyzo says that Naigai Times staff members who specialized in writing the erotic content and sold the accompanying ad space are now in search of new employment. The magazine adds that the concern now is whether more conventional articles will bring in complementary advertising down the road. Internally, some staff members are questioning the move.
"In this economic situation, good sponsorship is difficult to find," the same Naigai Times employee tells Cyzo. "With the change in policy, there is now open space for ads. But I don't know what will happen. I am concerned that readers interested in adult-oriented content will leave. They might start reading other dailies, like Tokyo Sports or Yukan Fuji."
Cyzo wonders whether this is a positive change of course or a mistake for the paper. At a minimum, it will test the management capabilities of Naigai Times. (C.J.)
Note: Brief extracts from Japanese vernacular media in the public domain that appear here were translated and summarized under the principle of "fair use." Every effort has been made to ensure accuracy of the translations. However, we are not responsible for the veracity of their contents. The activities of individuals described herein should not be construed as "typical" behavior of Japanese people nor reflect the intention to portray the country in a negative manner. Our sole aim is to provide examples of various types of reading matter enjoyed by Japanese.