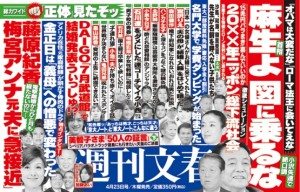 Shukan Bunshun's weekly column (Apr. 23) "From the Ladies' Magazines" features this short excerpt from the April issue of Ai no Taiken Special Deluxe published by Takeshobo.
"While aboard a jam-packed commuter train, I felt something creeping around my bottom," writes the pseudonymous female named "Ikenai Ikemen." "At first I thought it was the edge of somebody's briefcase, and I ignored it.
"But no matter which way I turned and changed my position, the creeping sensation persisted. Somebody — or some thing — was groping my butt. So I very…cautiously…turned to observe my tormentor and the groper, as it turned out, was a really good-looking college student type!
"At that moment I realized how difficult it is to tell from looking at a person's face what sort of sexual fetish he might be into.
"As I stood there, still gaping with astonishment, the young man nonchalantly disembarked from
the train and walked off, as if nothing at all had happened." (M.S.)
Source: "Shukujo no zasshi kara," Shukan Bunshun (Apr. 23, page 104)