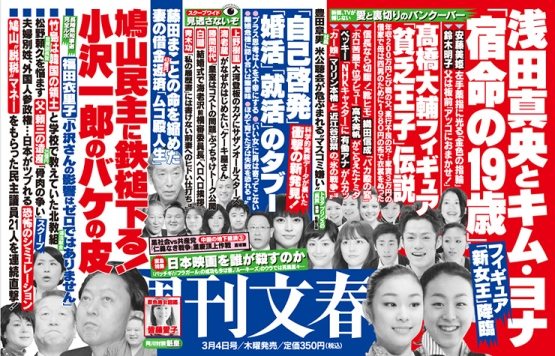 "My lover is 20 years older than me, and he adores me," writes the anonymous contributor to the February issue of a magazine about risky romance titled Kiken na Aitaiken Special, as introduced in Shukan Bunshun (Mar. 4). "We are definitely into World Cup-class infidelity.
"Some days we even get it on four times. I'm left completely enervated and with a terrific sense of satisfaction — don't feel any age gap between us.
"The other day I received an email from him in response to one of mine, but somehow sensed that he hadn't written it. The next time we met, I asked him, 'That wasn't your reply, was it?' and he exclaimed, 'No!'"
"It seems that while he was taking a bath his wife got into his mailbox, saw my message and sent the reply. Along with the shock of having our affair exposed, we both feel a sense of impending panic to have been caught with our pants down like this."
The pseudonymous byline for the writer is tweaked from "high-risk, high-return," with risk rendered in English as "ri-suck" instead of risuku.
Source: "Shukujo no zasshi kara," Shukan Bunshun (Mar. 4, page 111)