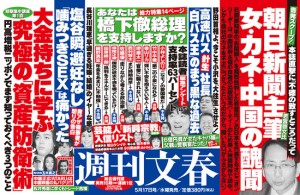 "My boyfriend is a real straight arrow, and after he spent the night at my place, the next morning as I had not been satiated, after I saw him off at the door I went back to bed, got out a rotary adult toy and began titillating myself — while thinking of him of course. Just as I was about to reach orgasm, I heard a male voice, saying 'Hey, what are you doing?!' I turned to the doorway and there he was. He'd come back to my pad to retrieve something he'd left behind."
Fee, fi, fo, fum and yummy yum, yum. Here cums a tantalizingly turgid tale from the March issue of the woman's masturbatory magazine Renai Tengoku, as replayed in Shukan Bunshun (May 17).
"From out of nowhere he produced a huge 20-centimeter long vibrator and asked me, 'How do you use one of these anyway?' Frankly I was surprised by his complete change of personality, from Mr. Straight to a lecherous AV leading man, but I egged him on, and soon he was thrusting the 8-Watt whopper into my willing womb.
"I felt a strange mixture of shame and lust, and just as I was about to climax, he produced a pair of fur-lined handcuffs, and snapped them on my wrists. Then he switched the vibrator to maximum power and really worked me over, until I began spasming from head to foot. Then, as he looked on greedily, for the first time in my life I experienced shiofuki (vaginal ejaculation).
The byline coined by Bunshun's playful punster this week is "aiburingu sutoppu." In Japan, the practice of shutting down a car's motor (encouraged as an antipollution measure) while idling at a traffic light, etc., is called aidoringu sutoppu. Here, aido is changed to aibu, meaning "to fondle in a sexual manner," thereby giving the meaning of "a temporary pause from fondling." (W.W.)
Source: "Shukujo no zasshi kara," Shukan Bunshun (May 17, page 99)