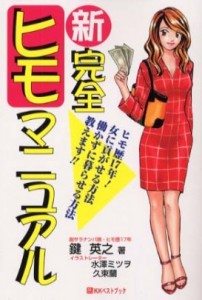 Girls who like to drink on their feet are among the easiest to roll over onto their backs. So men hunting for a one-night stand are advised to eschew sedate and secluded drinking spots in favor of tachinomi-ya (stand-up drinking establishments).
Evening tabloid Nikkan Gendai (June 21) reports that at one such place, under the elevated tracks in Tokyo's Shimbashi district, such females accounted for nearly half the clientele, and could be seen chug-a-lugging beer from mugs as they stood shoulder-to-shoulder with male patrons.
"If you ask one, 'What's good to eat here?' to break the ice, she might offer you a nibble of whatever she's eating," says Hideyuki Kagi, author of "The New Complete Pimp Manual," who provides the main commentary for the article.
"They're easy to pick up. But you should watch out for girls who are regulars at a place — they might be predators out to entrap you."
The second type of easy gal, according to Kagi, are those who wear their hair cut short, in the style of 22-year-old actress Juri Ueno, who starred in the popular Fuji TV drama "Last Friends."
Kagi says he became aware of this characteristic around the time his conquests reached 200.
"These kinds of gals are not too picky, so they're good for a one-time roll in the hay," he notes.
Another type of gal who's easy to score with is one who goes in for "Brazilian wax" depilatory treatments — a practice said inspired by "Sex and the City." Of course you won't know her mons is adorned with ippon-sen (a Mohawk-styled trim) until you peel off her garments, but it seems that such women get off through the feeling they can control men.
Kagi also says girls who prance in hot pants are likely to be hot to trot.
"They might be a bit deceptive in the first place, and are aggressive, which is why they go for revealing clothes," he says. "Like the girls with short hair, they're easier to seduce by coming on to them directly. They'll do fine for a one-night stand."
The fifth type is the gal with a hearty appetite, who digs into almost anything placed in front of her.
"A girl who likes to sample various things is also likely to have a wolfish sexual appetite," observes Kagi. "She'll go after the kind of males she's never encountered before. Of the five types, she's the one with the lowest threshold, easy to get hot and to chill.
"It's hard to have a serious relationship with this type, but if you just want to have fun, they're the best." (Mieko Shimizu)
Source: "Kono goro wa yari no go taipu," Nikkan Gendai (June 21, page 13)