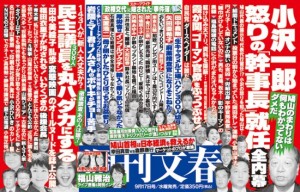 "The other day, my boyfriend and I went on our first trip together," the anonymous contributor writes in the August issue of the women's porn magazine Ai no Taiken Special Deluxe, as reported in the weekly feature in Shukan Bunshun (Sep. 17).
"We stayed overnight at a rural hot springs inn and spent very little of the time sleeping," she winks. "The next day we took a leisurely stroll along a country road and came to a station. There was no one in the stationmaster's office. The facility was unmanned. And because the next train wasn't due for two hours, the place was completely deserted.
"Anyway we sat down on a bench and he began kissing me.
"'Oh my gosh,' I thought. . .'What if somebody comes?' 'Or, what if a train full of passengers goes by on the opposite track?' But the more I thought of these scenarios the more excited I became.
"I undid his belt, reached in and extracted his thing, which was firm and glistening bright red. I was sopping wet and couldn't wait, so I sat on his lap and slipped it inside me, grinding my hips back and forth.
"I guess he was pretty much drained from the previous night, so he did not ejaculate. But since I love slow sex it was as good as it gets."
The writer's byline is given as Zairai-sen, meaning "existing (rail) lines," but in this case the characters are changed to create the fiendishly clever pun, "the line where first come is first served." (M.S.)
Source: "Shukujo no zasshi kara," Shukan Bunshun (Sep. 17)