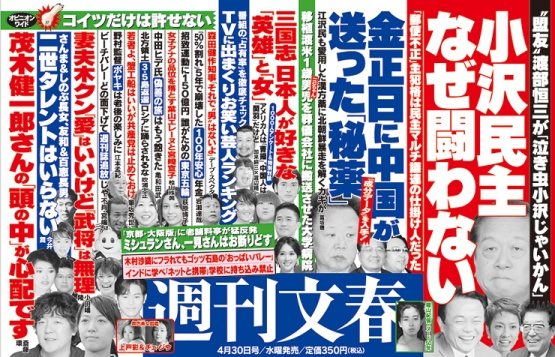 The April edition of the women's magazine Ai no Taiken Special Deluxe, published by Takeshobo, has no lack of explicit personal testimonials. This particular submission, by the pseudonymous "Koto Chinjutsu," appears in the "From the lady's magazines" page featured each week in Shukan Bunshun (Apr. 30).
"Not long ago, while having sex with my boyfriend I was fellating him when he suddenly asked, 'What does it taste like?' His question sort of took me aback, but I did my best to describe the flavor of his penile emissions in the manner that would do credit to a gourmet restaurant reviewer.
"That seemed to get him really turned on, so from that point, he began demanding that I provide a running commentary to describe what I was tasting each time I did him down there. Which wasn't all that easy. I mean, come on, it was the same pork sword so it always tasted pretty much the same, which meant I really had to exercise some creativity to keep him amused.
"Anyway, it got to the point where I felt the arrangement had become too one-sided, so while I was sucking him I shifted my butt over his face into the 69 position.
"'Okay,' I said to him between licks. 'Now it's your turn to let me have your gourmet report. Come on, let's hear it.'
"He seem perplexed and then after he resumed licking me, I heard his muffled voice exclaim, 'You taste salty!'"
This was a disappointing dearth of descriptive vocabulary, she writes. And it was at that moment that their oral gourmet game came to an end.
Source: "Shukujo no zasshi kara," Shukan Bunshun (Apr. 30, page 103)