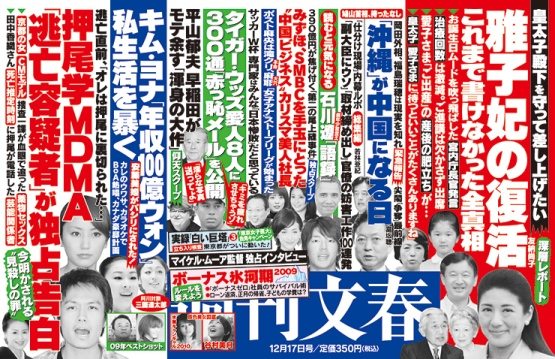 "Once the man with whom I was having an extramarital affair complained to me, saying, 'Wow, you've really let yourself become slack down there,'" laments the anonymous contributor to the December issue of Ai no Taiken Special Deluxe, as introduced in Shukan Bunshun (Dec. 17).
"His disparaging remarks really got to me. Anyway, not long afterwards my parents back home in the countryside tried to fix me up with an arranged marriage, to a divorced man who was five years older than me.
"In situations like this premarital intercourse is a given, but I worried he would reject me because I wasn't tight enough for him.
"But while having a drink together he confided to me, 'Actually, it's kind of hard to tell you this, but I have quite a large penis.' So it looks like we both had problems to deal with, so to speak."
But would his stalwart sausage find her whopper-sized womb accommodating? The two headed for a hotel to put the theory into practice.
"His organ stood up splendidly at attention, and the moment he thrust into me, I gasped with an ecstasy I'd never felt before then," she writes. "We two merged into one, and when he ejaculated a gusher of semen, we decided on the spot to tie the knot!"
The byline is given as "Biggu Kappuru Tanjo" (the birth of a "big" couple), playfully punned from the ad slogan used for the launch of Nissin Foods' large-portion "Big Cup" instant noodle product.
Source: "Shukujo no zasshi kara," Shukan Bunshun (Dec. 17 page 105)