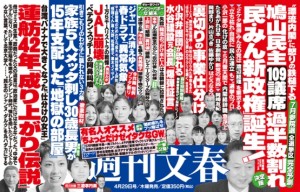 The April issue of women's soft porn magazine Ai no Taiken Special Deluxe, as introduced in Shukan Bunshun (Apr. 29) features a story of a middle-aged woman's sexual awakening.
"I'd led a protected life as a student," she writes in the way of self-introduction. "My marriage was arranged, and I'd never had sex with any man except my husband."
Definitely an old-fashioned gal. But that was to change last year after her daughter entered university in Tokyo and she came to the big city to look after her.
"I began giving classes in flower arrangement to keep busy. The flowers were always delivered from the florist by this young hunk. One day after my students had already left, he hung around and we began chatting.
"'From the first time I saw you I had the hots for you,' he blurted out to me, and then kissed me right then and there! My head was spinning. Then he performed cunilingus on me, which was something my husband had never once done to me, and I was able to feel the joy of sex for the first time in my life.
"I realize I have committed adultery, but the good vibes just won't quit!"
The contributor's pseudonymous byline is a play on words of the 1966 Tadashi Yamazaki hit tune, "Doko made mo yuko, michi wa kibishikutomo" (Let's go through thick and thin, even if the way is difficult). It has been tweaked to read "do-koman demoyuko…" which reverses the syllables in manko, the vulgar term that serves dual use for both vagina and intercourse, to suggest, "Let's get it on, even if the way is difficult." (M.S.)
Source: "Shukujo no zasshi kara," Shukan Bunshun (Apr. 29, page 103)