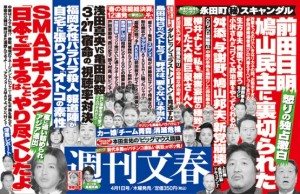 "I've been going with this guy for a month now. He's very gentle and I've got nearly no complaints about our lovemaking, except (blush) sometimes he likes to engage in anal play."
Thus begins another confession of true lust, in Shukan Bunshun's (Apr. 1) weekly excerpts from women's soft porn magazines, in this case the April issue of Ai no Taiken Special Deluxe.
"When I discourage his efforts by redirecting him to my anterior portal, he makes a disappointed pout," she continues.
"Actually, I had a bit of a hemorrhoid problem for some time, and finally went to the proctologist to get it treated. At first I felt so mortified it felt like my face was all aflame. But when the doctor probed my rectum with his gloved finger I sort of felt sexually stimulated, and began wondering if anal sex would give me a similar sensation.
"One day after my problem had been treated, I was staying over at my boyfriend's place and hinted I was willing to let him do me from behind. He beamed like a kid on Christmas morning.
"As he rammed his rod into my rear, I felt a sense of consuming pleasure."
For the byline, Bunshun's notorious punster plays with the lyrics of the 1947 Akiko Kikuchi hit song, "Hoshi no Nagare ni," which at the end of each stanza asks, Konna onna ni dare ga shita? (Who made me a woman like this?). The line is tweaked to read, Konna onna ni dare ga ASS ita?, which doesn't make a great deal of sense — but the word "ass" appears prominently in the Roman alphabet. (M.S.)
Source: "Shukujo no zasshi kara," Shukan Bunshun (Apr. 1, page 113)