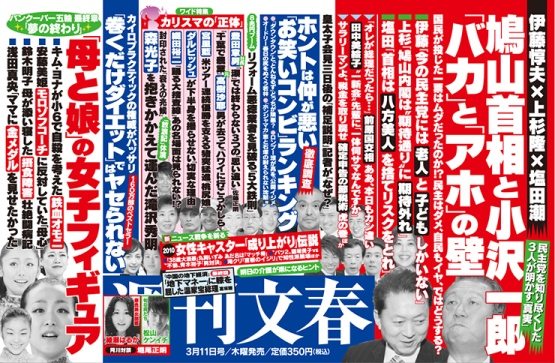 "Work has been busy and it's been hard to get together with my young boyfriend, a student," writes the anonymous contributor to the March issue of ladies' soft porn mag Renai Tengoku, as introduced in Shukan Bunshun (Mar. 11).
"Finally we were able to sneak off during a three-day weekend last autumn. We traveled to a Japanese inn at a famous hot springs in Kyushu, and upon checking in went straight to the private outdoor bath for two.
"I soon confirmed my suspicions that he was rarin' to go. It sort of awakened the devil in me and I began to tease his "thing," giving his balls a friendly rub for good measure.
"'I'll get you for that!' he joked in response, reaching out to grab both my breasts with fingers bared, like an eagle's claws. And soon he was sucking on my nipples! But I wasn't going to let him get the best of me. After we returned to the room, I gave myself a taste of his c**k, time and time again!"
Bunshun's irrepressible punster gives the byline as "Inbi-kutas/makezaru monotachi" (Invictus, the unconquerable ones) — an outrageous pun on the title of the current hit film about the South African rugby team. The first syllables are written with the characters inbi (meaning lascivious) -kutas, and makezaru means not to lose. So the overall gist of the byline is "lascivious (kutas), the thing standing erect that can't be beaten."
Source: "Shukujo no zasshi kara," Shukan Bunshun (Mar. 11, page 197)